3 Examples of Effective Retail Marketing
Marketing has never been just about selling. It's about telling a story, conjuring a feeling and inspiring an audience. It's about doing anything to make that ever-so-valuable connection with an entire community. People aren't just buying a product, they're buying a brand. If your brand is strong and you connect well with shoppers, then this article isn't for you.
If not, then we need to do some work! Before we shame you for your poor choice in marketing (kidding!), we'll walk you through some companies that are doing it right. Take some notes about these three examples and uncover true examples of brilliant product marketing.
Master Your Audience: BKR
Women who fall in the 20-year-old to 30-year-old age range have probably seen these high-class, luxury water bottles everywhere. They're chic, made of glass and complete with an outer matte finish in several colors.
Sure, a glass water bottle may seem odd and slightly impractical, but BKR is doing some things right here.
First, BKR knows its target audience. On its homepage, there are presumably fashion models in various poses, caressing BKR water bottles. Or heck, maybe not even holding a water bottle at all. Why does it matter? Cool, pretty women in stylish clothes are hanging out in hip places — the product doesn't even matter. They're saying, "Oh, hi. Didn't see you there," in a way that makes shoppers love them and want to be them. "Beauty will save the world," friends. So, sure, buy a water bottle.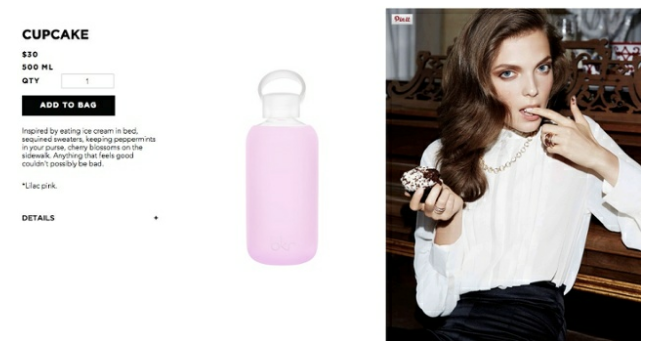 All jokes aside, BKR knows what it's doing. It's targeted a specific audience and taken risks to connect with them. Even the names of the bottle colors are clever and draw in fashion-crazed shoppers. Instead of fuchsia, it's "lola." Is that bottle white? Absolutely not, it's obviously "boo." Swap peach for "bellini," teal for "dive," and suddenly it's much more enjoyable to shop.
Related story: 5 Ways Online Shoppers Mentally Grade Websites