Oops … They Did it Again! FedEx Increases Fuel Surcharges On All Products
On the heels of a fuel surcharge adjustment just this past February, FedEx is once again adjusting its fuel surcharge index nine months later. Effective Nov. 2, 2015, fuel surcharges for FedEx Express and FedEx Ground will change resulting in Express/International increases of 1.5 percent to 1.75 percent, and Ground increases of .5 percent to 1 percent (see Table 1 and Table 2 below).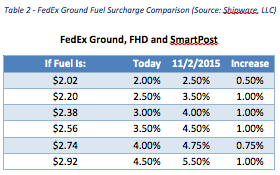 These rate increases should impact all FedEx shippers unless a specific fuel surcharge table is part of their contract. The new FedEx fuel surcharge tables are available for viewing at http://www.fedex.com/us/services/fuelsurcharge-2015.html.
The changes reflect yet another increase in the same calendar year. On Feb. 2, 2015, FedEx Express and International services increased their fuel surcharges by as much as 4 percent (see Table 3 below).
Had FedEx not made the change, shippers would be paying NO fuel surcharge on Express and International packages since February 2015! The February 2015 rate change took Ground products up as much as 3.5 percent from the current fuel surcharge table (see Table 4 below).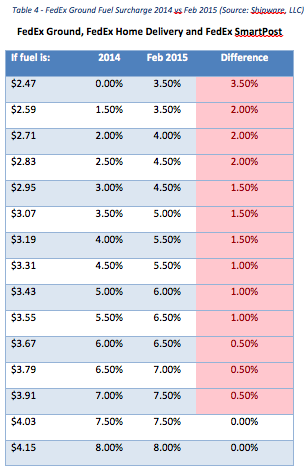 Of course, UPS followed FedEx's lead and also changed its fuel surcharge tables in February 2015 (see Tables 5 and 6 below).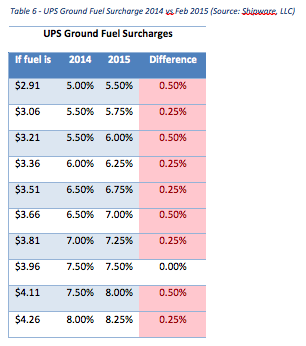 To be fair to FedEx, its chief rival UPS has long enjoyed higher fuel surcharges. The fuel surcharge adjustments FedEx made in February 2015 were designed to bring its fuel surcharge closer to those imposed by UPS. However, like FedEx, UPS also adjusted its fuel surcharge tables simultaneously in February 2015, and "Big Brown" has collected significantly higher fuel fees from its customers all year (see Tables 7 and 8 below).
Whose fuel surcharge table will be a better choice for shippers once FedEx adjusts its fuel index on Nov. 2?
Assuming UPS doesn't again adjust its fuel surcharge index, when fuel prices are lower FedEx will continue to maintain a slight advantage over UPS. However, when jet fuel is $1.50 or higher and diesel $2.84 or more, FedEx and UPS fuel surcharges will essentially match (see Tables 9 and 10 below).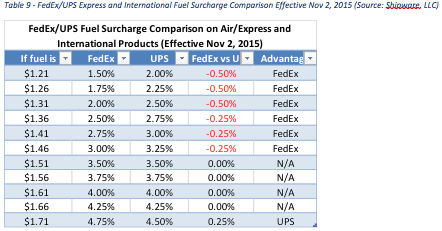 Of course, FedEx understands fuel prices won't be as low as they are today forever. However, introducing the increase to its customers at the current cost of fuel, FedEx can tell its customers that it's still lower than UPS, perhaps softening the blow of yet another increase.
It's also interesting to observe a reversal in pricing strategies at FedEx. From 2007 to 2013, FedEx general rate increases (GRIs) were always announced in conjunction with a reduction in fuel surcharges to partially offset the increase.
For example, FedEx's GRIs for Express and International products from 2007 to 2009 were 6.9 percent, but offset by a 2 percent reduction in fuel surcharges for a net increase of 4.9 percent. From 2010 to 2013, FedEx's GRIs for the same products were 5.9 percent, with a 1 percent fuel surcharge reduction for a net increase of 4.9 percent.
However, in 2015 there was no offset for fuel. The GRI was the same 4.9 percent net, but in February 2015, shippers were hit with as much as a 4 percent increase on fuel. The net impact, of course, is a lot higher than 4.9 percent. And in 2016, the GRI is 4.9 percent with no offset, with fuel surcharges increasing as much as 1.75 percent. A higher net result is achieved again.
One final zinger to FedEx customers: FedEx SmartPost DAS surcharges are more than doubling in 2016 and non-machinable surcharges are going up 16.8 percent (see Table 11 below).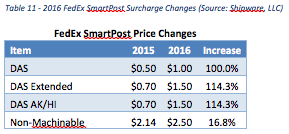 While last year's dimension-based pricing and other FedEx and UPS revenue management actions led many pundits to call it the "mother of all rate increases," the aggregate impact of the announced 2016 GRI, fuel surcharges and special handling rate hikes is proving to be no less potent. Forewarned is forearmed. As always, good luck!
E
Rob Martinez
Author's page
Rob Martinez is the CEO of Shipware LLC, a professional services firm that transforms businesses through intelligent distribution solutions and strategies. Rob has helped some of the world's most recognizable brands reduce parcel shipping costs an average of 25 percent through contract negotiations, rate benchmarking, modal optimization, invoice audit and other savings vehicles. A cum laude graduate of UCLA, Rob has 20 years of transportation industry experience, including executive positions at DHL and Stamps.com, in addition to his work as an outside consultant since 2001.