My Favorite Christmas Catalogs of 2015
There are plenty of Christmas catalogs in the mail this year — some great, some just OK, some forgettable. Here are my faves for 2015:
The Folio Society "Christmas 2015 Collection"

An impressive package in a large envelope with letter, three inserts and two catalogs (one just of children's gift books). This high-end U.K. book publisher/republisher creates books that are beautifully bound, printed and illustrated. Its catalog is as top quality as its books, and is a pleasure to see and read. The Folio Society communicates a consistent brand image via copy, design, illustration, photography and product selection. This beautiful mailing package will not see the recycling bin.
Lands' End "Our Best for Yours"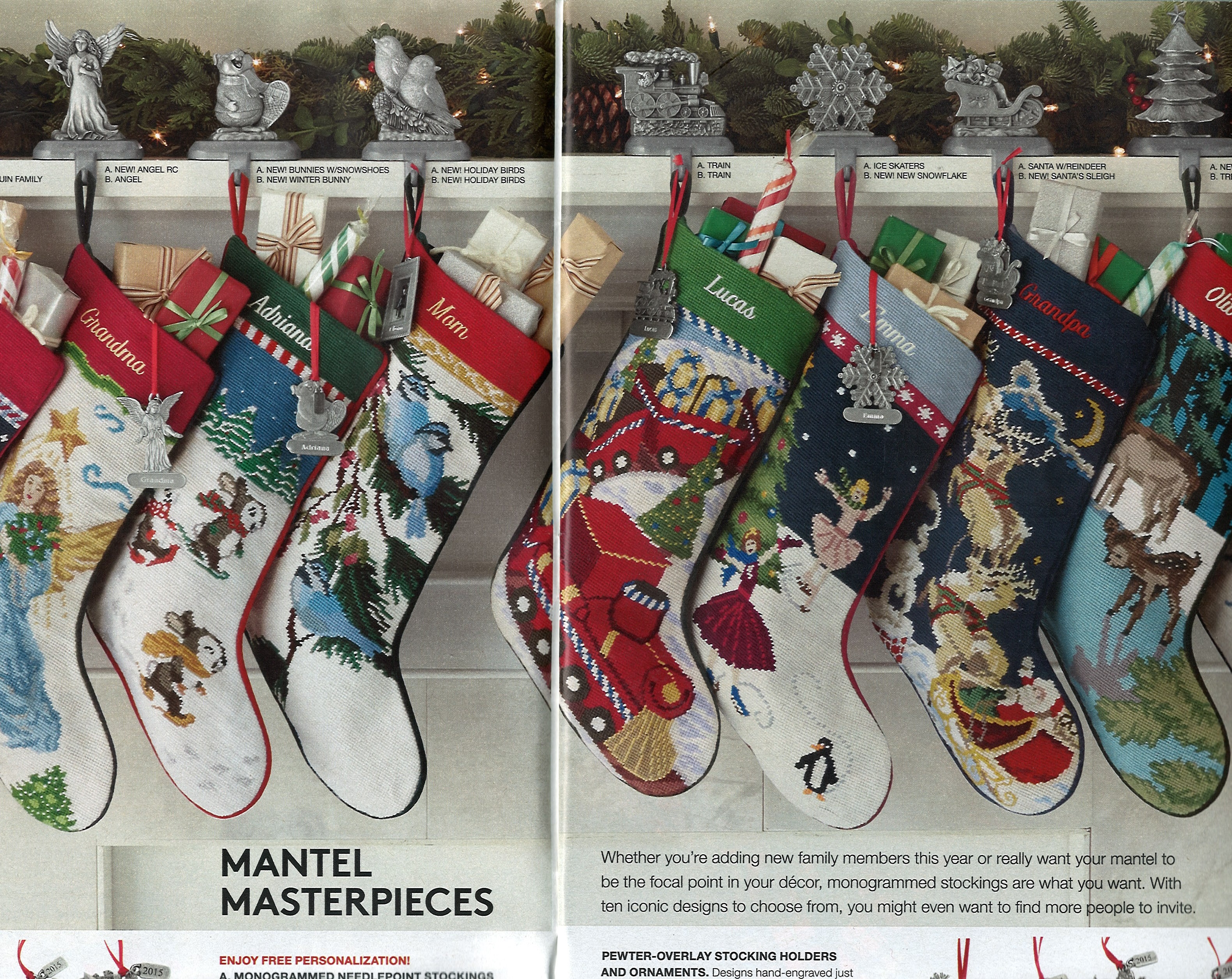 Lands' End's eye-catching cover — red ribbon tied over a snowy mountain scene — jumped out in the mail, and instantly communicated "holiday giving." True, most catalogers couldn't get away with a cover that doesn't show or say what it sells, but Lands' End's instantly recognizable brand can, and kudos to it for taking the chance. Inside, you can't mistake the message: lots of Christmas gifts; natural-looking, warm photos of families at Christmas; and plenty of giving-oriented headlines. Outstanding total presentation.
Heifer International "Special 2015 Holiday Edition"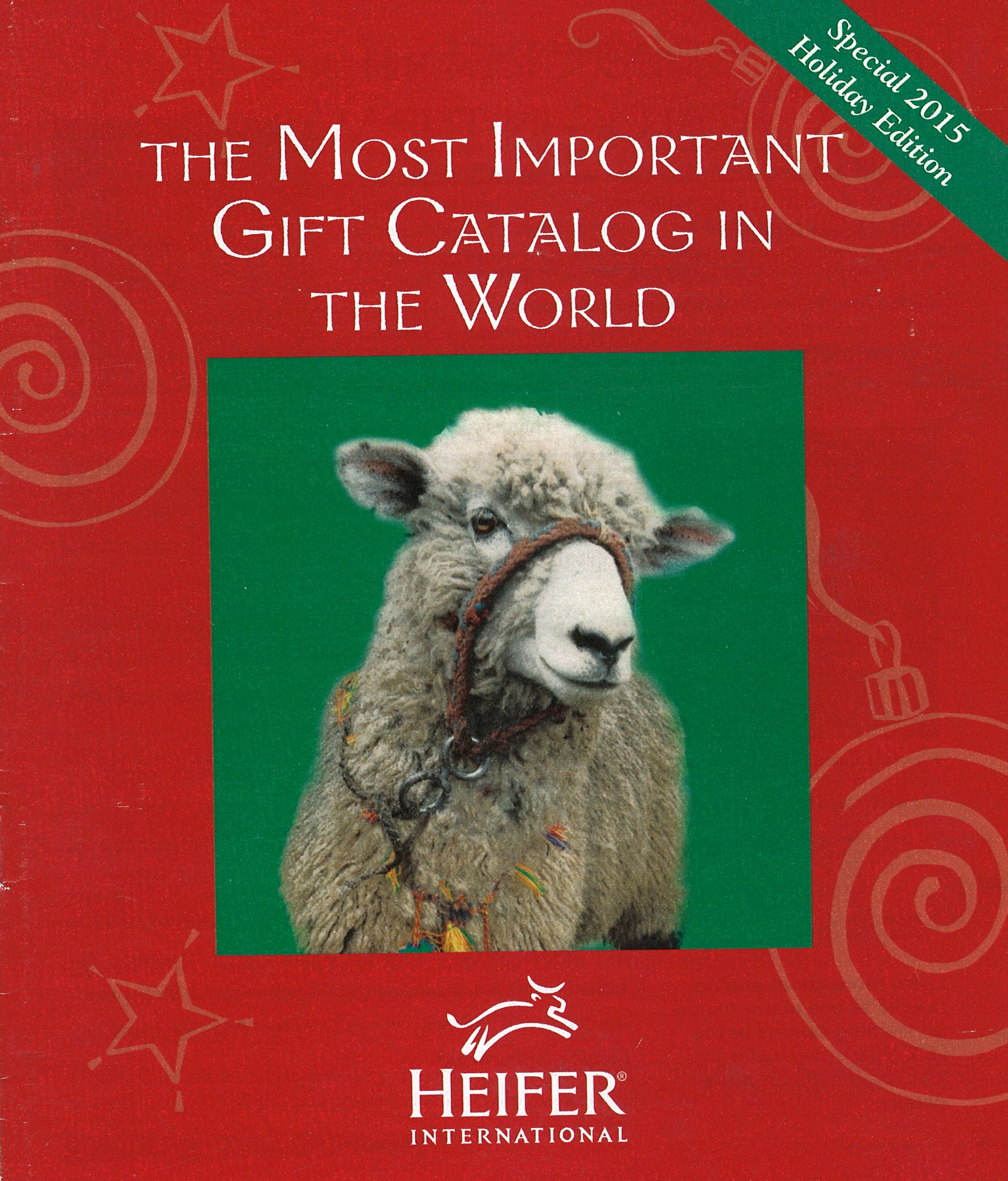 Although Heifer International's cover looks about the same year after year, who cares? This little gem of a catalog is always recognizable with a compelling story. Many other charity mailings are a straight pitch for donations or full of products to buy. Heifer instead asks you to buy a sheep or llama, or buy a share in an animal (you can choose your price point). That sheep or pig or duck goes to a family that's trained to use it to become self-reliant (and to help neighboring families too). It's the "teach a person to fish" concept, and I think that's part of what makes the Heifer catalog so powerful year after year.
Gardener's Supply Company "Holiday 2015"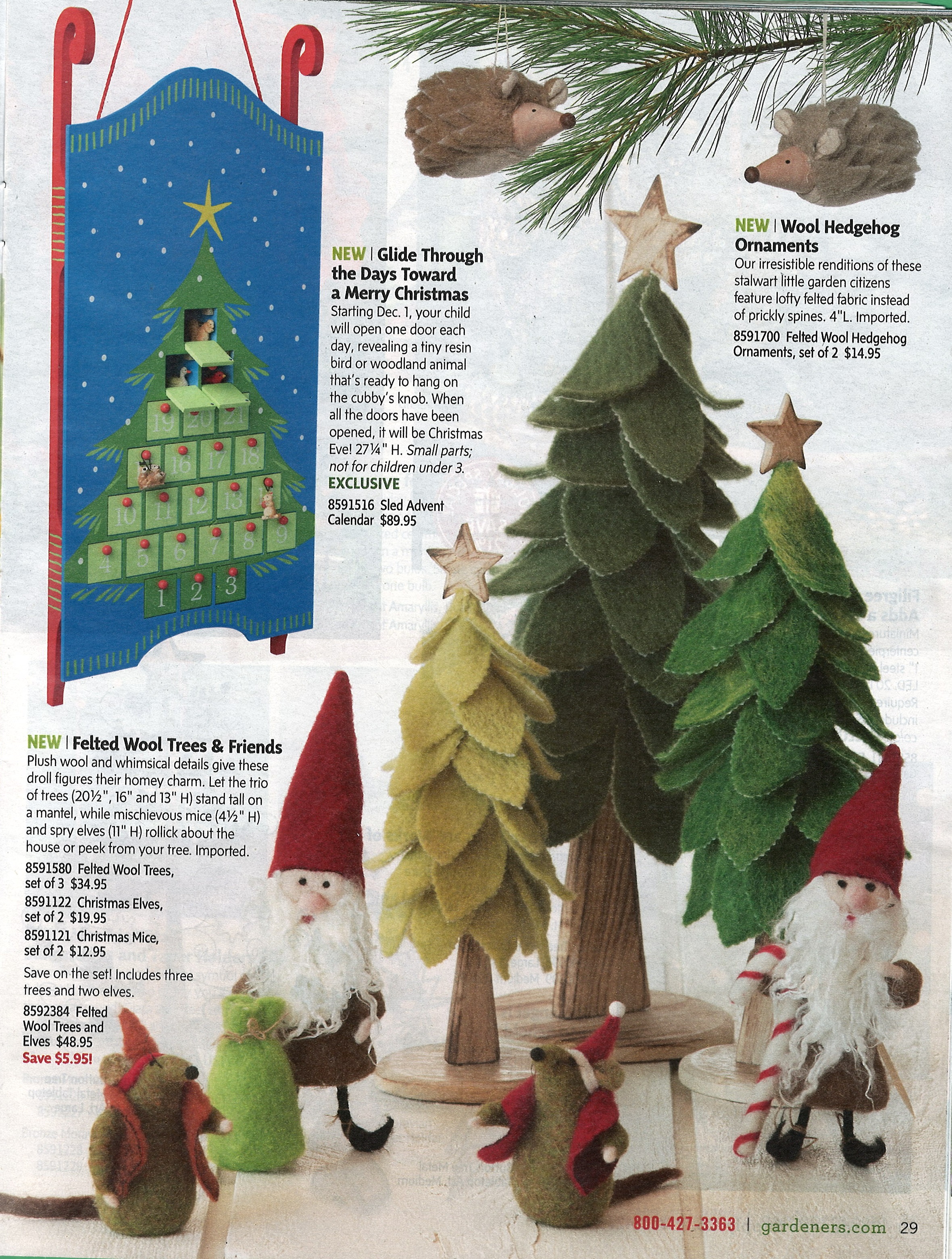 A gardening catalog must have only a spring/summer season, right? Wrong! See how Gardener's Supply turns a Spring/Summer catalog into a pipeline to holiday sales. The cover features a lovable dog snuggling stockinged feet (the socks are sold inside) with a headline that tells customers just what to do: "Sit! Stay! Give!" Inside are loads of nature-related gifts most gardeners would love to get or give, including garden decor, indoor plants, holiday decorations and goodies. All in a well-designed catalog that's also well-targeted to Gardener's Supply's audience.
Duluth Trading Co. "Vol P13, No 23"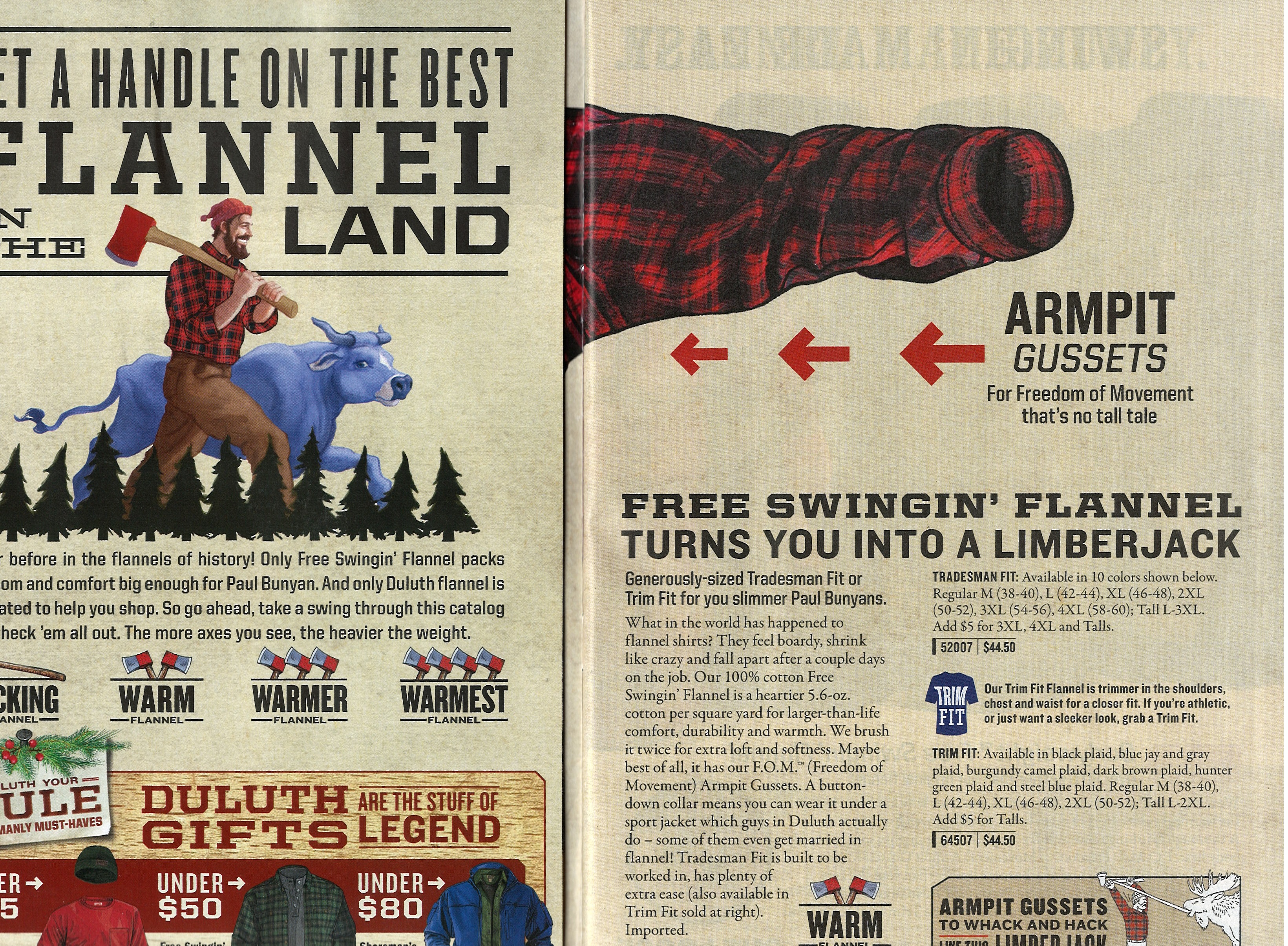 A Christmas tree, Babe the blue ox, and Paul Bunyan reaching for a star. What a splendid, happy image, and just one of the wonderful illustrations that makes Duluth Trading Co. so recognizable. This eye-catching cover opens to a well-done gatefold, designed so it's immediately clear to readers that they must open the gate in order to see the rest of the shirt, helped along with the big shirt arm and arrows pointing at the gate. Inside the gate and throughout the catalog are the distinctive, humorous yet feature/benefit-rich copy and illustrations that are Duluth's trademark.
Dover Children's Gift Guide "Holiday 2015"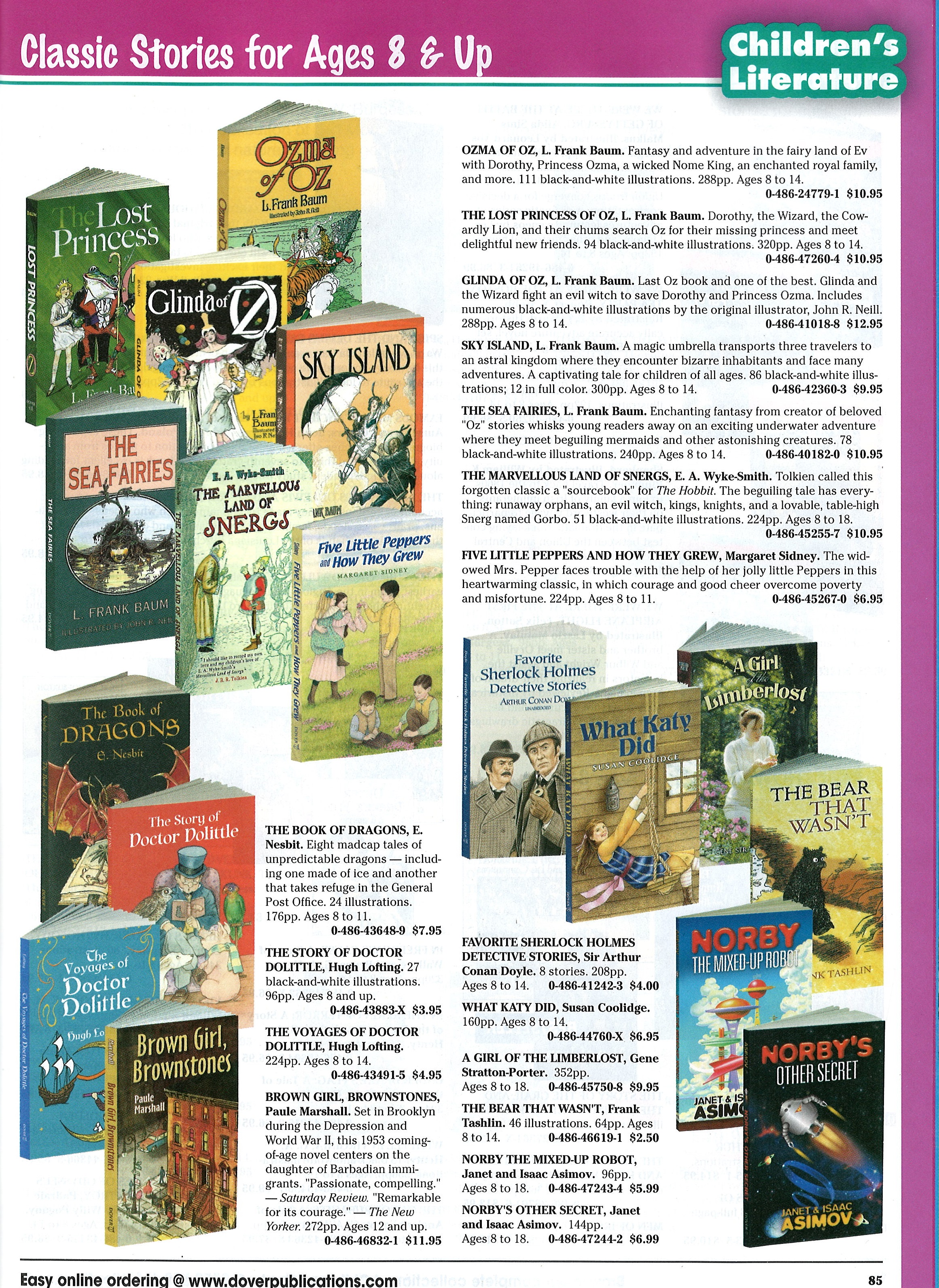 The cover from bookseller Dover is cute and appears understated, but is actually marketing hard. Snowkids building a snowman communicates both "holiday" and "kids." Three offer messages ("20% Off & FREE Shipping"; "SAVE 25% on 50 Bestsellers" and "FREE Paper Doll!"), plus "Over 1,000 Gifts $5 or Less!" This is a powerful, 132-page, high-density catalog loaded with highly affordable books (many classics) and paper-based activities for kids of all ages. It's well organized, easy and fun to scan. I've sent my 13 grandnieces and nephews, as they grew, sticker books, then coloring books, then Thornton Burgess' wonderful animal stories, then Frank Baum's timeless Oz books. An impressive, hard-working catalog, and a super resource for Dover's target audience.
E
Susan J. McIntyre
Author's page
Susan J. McIntyre is Founder and Chief Strategist of McIntyre Direct, a catalog agency and consultancy in Portland, Oregon offering complete creative, strategic, circulation and production services since 1991. Susan's broad experience with cataloging in multi-channel environments, plus her common-sense, bottom-line approach, have won clients from Vermont Country Store to Nautilus to C.C. Filson. A three-time ECHO award winner, McIntyre has addressed marketers in Europe, Australia and New Zealand, has written and been quoted in publications worldwide, and is a regular columnist for Retail Online Integration magazine and ACMA. She can be reached at 503-286-1400 or susan@mcintyredirect.com.