How App Performance Impacts Customer Loyalty
The global consumer has thousands of options for every purchase they make, and ever-changing mediums on which they can engage with brands. With that in mind, one consistent trend shows that their buying habits are direct reflections of experiences they've had interacting with an e-commerce channel. This trend has been validated through a recent survey conducted by Atomik Research, further proving that retailers hoping to come out on top need to offer top speed, convenient experiences and personalized offers.
These findings explain in plain language how critical website and mobile app performance is for the success of a retailer. A mobile app or website is only useful to a consumer if it performs when they need it. In fact, this survey found that poor performance results in not only losing customers, but it impacts their overall perception of a retailer:
Seventy-three percent of smartphone and tablet owners agree or strongly agree that an app or website's performance is key to how they think about a retailer. Performance is key to brand image. The consequence of a poorly performing app is not only that a customer will stop using the app, but they'll also likely think twice before visiting the store — therefore losing their customer altogether.
The problem retailers face is that ensuring application performance is becoming increasingly challenging. The complex architecture of a modern application means that performance issues can arise from a number of areas, including the smartphone or tablet used, the application code, infrastructure, or the back-end database. In other words, a unified monitoring solution that correlates and analyzes performance from an end-to-end perspective is a critical component of a responsive design strategy. Without this capability, retailers run the risk of app performance problems immediately harming customer experience and, ultimately, damaging the brand in the long term.
So performance is key to a great app, but what's key to a great shopping experience is convenience. Today, digital and tech innovation have made us all time poor. While apps provide retailers the ability to engage with their customers at any time, brands have to understand that an app has to make the buyer journey more convenient. Successful software strategy requires identifying friction points in the buyer journey, and then making sure that the app alleviates these problems. Doing this ensures that retailers develop apps that seamlessly "plug in" to their customer's life cycle and provide convenience.
Just having an app and advertising it in-store or via email isn't enough. For a consumer to download it, retailers need to make use of GPS sensors and past buying data in order to provide highly contextual and personal offers. An app, even though it may be used by millions of customers, has to make each customer feel special — like the app has been designed just for them. This was highlighted in the survey: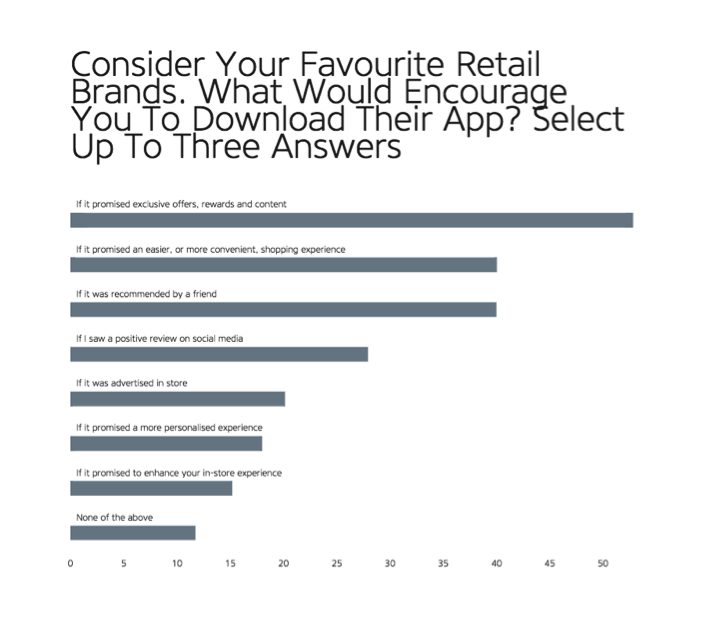 Both the top areas reflect the need for convenience, but this isn't just about convenience in the app itself. What's vital here is the need to seamlessly merge the experience of different channels, the virtual (app) and physical (store) channels in particular. For example, an app should be aware when a consumer is near a store and provide offers or product details to entice them into the store. When in-store, apps should be used to allow fast purchase and provide shopping assistants with details of past purchases in order to tailor the experience for the customer.
With the excitement around technology innovation at the moment, it can be easy to lose sight of what's important — the customer. Fundamentally, whether your customer chooses to shop in-store, online or via their wearable, they're engaging in a service between them and you. A service should be bidirectional, and while technology will enhance the service provided, it's only a method of delivery. The retailers that will succeed in the digital age are those that grasp the fact that no matter the app or technology, it's still the personal relationship and trust formed with customers that are key to brand loyalty and success.
There are many ways in which technology can be used to help humanize a service delivered via an app. To highlight the survey asked:
Seventy-five percent of respondents agreed or strongly agreed that even if an app had an issue, a prompt personal apology would help in retaining their loyalty. This is known as a win-back tactic. In order to do this, you need an analytics solution which can correlate the customers affected with the key business transaction they were trying to execute and the potential value of their purchase.
In summary, the retailers that will find success in today's digital world are those realizing that while apps allow them to compete, just delivering an app will not enable them to win. It has to be understood that performance is the foundation of app experience, which means it must be protected and optimized via an appropriate unified monitoring strategy. Secondly, for a great omnichannel shopping experience, retailers must focus on delivering apps and features that seamlessly plug in to the customer journey, making interactions enjoyable and ultimately more convenient.
John Rakowski is director of product marketing for application performance management (APM) and analytics at AppDynamics, an APM and IT operations analytics company.