Why Video is Critical to E-Commerce Success
Online merchants have long known that videos are the best way to engage consumers rather than just text and photos. Relatively fewer, however, have fully embraced video as a core part of their selling strategy online, largely due to a lack of in-house experience with the medium and concerns about return on investment.
However, dramatic changes in the way people are interacting with each other and consuming information online mean merchants can no longer afford to sit on the sidelines polishing their static websites or patting themselves on the back for a handful of product videos. If merchants want to capitalize on the inherent power of video to turn browsers into buyers, they've got to make the production, display and sharing of a variety of video content across platforms a priority for their brands.
Video Explosion
Viewing of online video is exploding and will continue to expand for years to come, according to Cisco Systems. The technology giant predicts that by 2018, 84 percent of all U.S. internet traffic will be video, much from the growth of on-demand TV services.
Visual commerce expert Invodo reports that video drives conversions, increases shopper engagement, improves online and offline marketing campaigns, and boosts search engine optimization. About 90 percent of consumers have watched an online video, and those who have are 1.8 times more likely to purchase than nonviewers, according to Invodo.
Product Videos
The product video is in many ways the most natural and straightforward way for merchants to add video content to their websites. Short video clips featuring demonstrations of particular products can be an engaging way to give potential shoppers a great deal of information in a short period of time.
Instead of just producing a sampling of such videos, however, merchants should commit to producing a significant number and build a virtual library of video content. Such content, when properly tagged and combined with how-to videos, can improve SEO and bolster a brand's reputation as a valuable online resource.
MarketLive merchant Griot's Garage is an excellent example of a merchant that maximizes its investment in high-quality how-to videos featuring the products it sells. The video below features a time-lapse detailing of a mud-caked Ferrari restored to its shiny glory with the company's spray-on car wash. In addition, notice how the space to the right is wisely used to display related products.
Griot's Garage even has a whole section of fun videos, from visits to vintage car collectors, to bloopers and even an April Fool's gag video purporting to feature a product called "Spray-on-Sports Car" that promises to turn any clunker into the sports car of your dreams in one minute.
The blend of videos shows that merchants can take video content seriously without taking themselves too seriously.
Video From Other Sources
With today's video technology, it's easier than ever to shoot, edit and upload basic product videos. All merchants should work to develop such capabilities in-house. For those that don't have the resources and budget for tackling such a project, there are other ways to ensure video plays a prominent role in your main e-commerce site and social media outposts.
Most major brands and manufacturers have their own collection of high-quality brand and product videos that merchants would be wise to tap for their own sites.
Third-party endorsement videos are another great source of content. Brands work hard to develop relationships with unbiased third parties (e.g., news outlets, television shows, bloggers) not only for the direct benefit access to their audiences can bring, but from the follow-up value of being able to replay those videos on their sites and social media long into the future.
However, don't fret if the "Today" show or "Fox and Friends" don't grace one of your products with an on-air tribute. Chances are you've got legions of online fans who, given their right incentives, could be tapped to make their own videos and distribute them across the social networks for you.
What brands may lose in control of content they may make up through broad online exposure.
Consider how this below video of blogger Copy Cat Chic produced of a tour of Cost Plus World Market, and was able to generate more than 2,200 views on YouTube.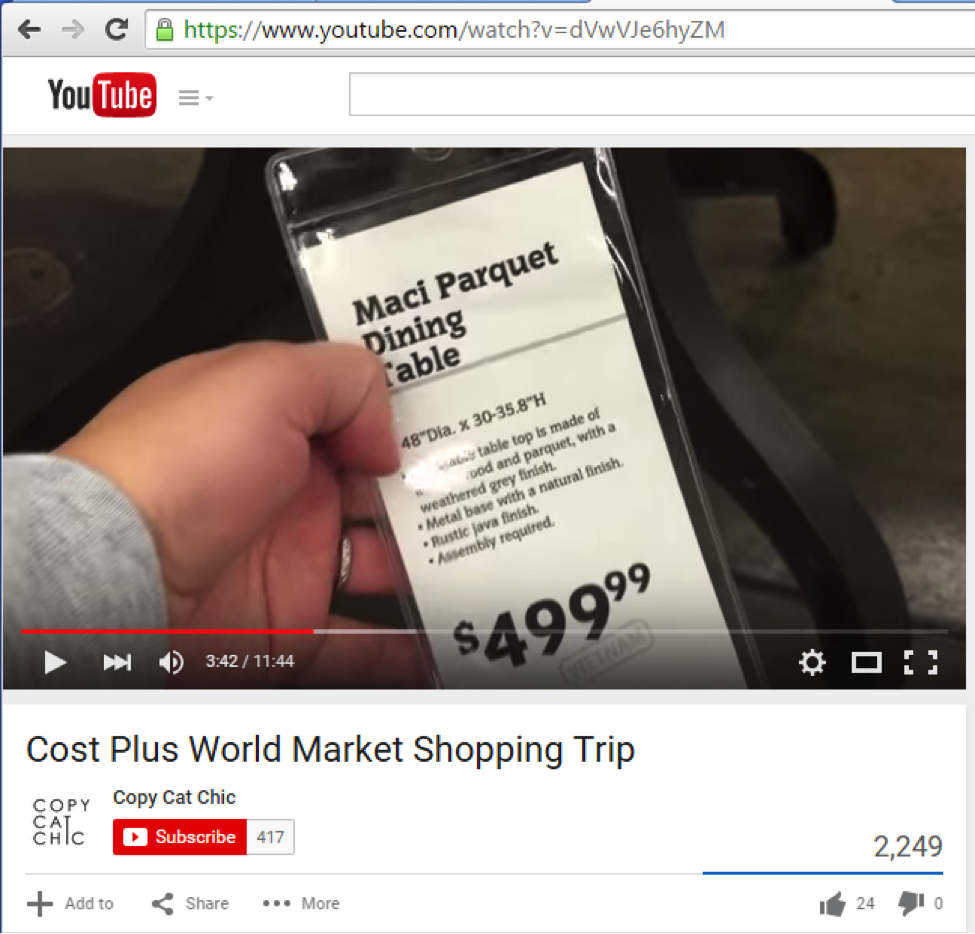 Native Videos
Increasingly, social media sites like Facebook and Twitter are making it easier for users to post and share native videos — i.e., videos that are uploaded to the social network itself played in-feed, instead of linked to videos hosted on other sites.
Anyone who's kept an eye on their Facebook news feed of late will find it crammed with videos of shared and sponsored content. Facebook users now reportedly watch in excess of 4 billion videos per day. A key element of these videos is that the autoplay is muted if they're displayed on a user's feed for more than a few seconds. Importantly, Facebook reported that 75 percent of those videos are being viewed on mobile devices, so sizing videos correctly for mobile play is key.
Playing a bit of catch-up, Twitter has blown past its 140-character limit and is rolling out its native video tools for users and promoted content.
The time has come for merchants to up their game when it comes to video by moving it from an afterthought to a core of their strategy for engaging with customers in the new immersive online shopping environment.
Ken Burke is founder and CEO of MarketLive, an e-commerce software provider. Ken can be reached at ken@marketlive.com.