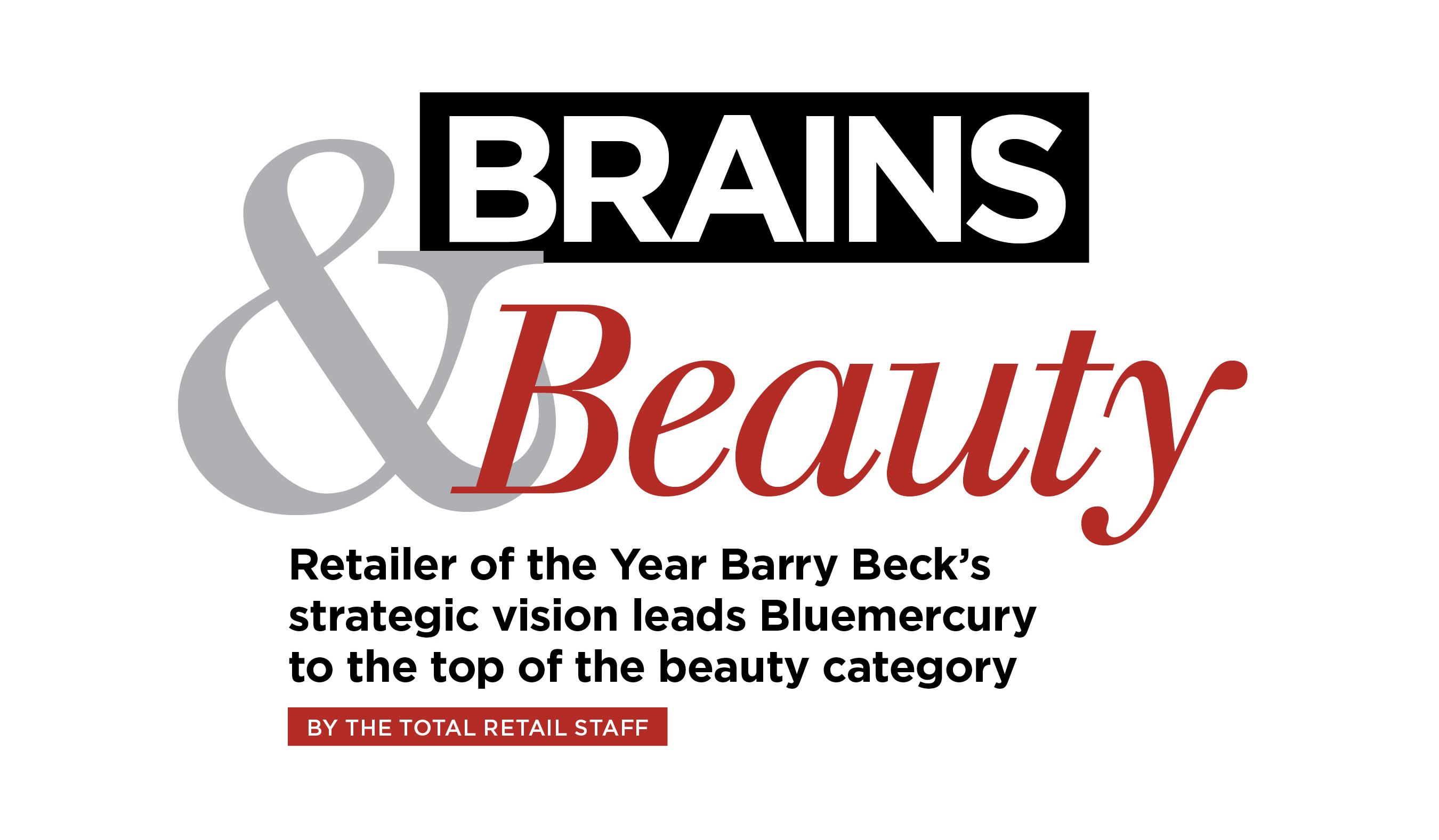 Total Retail: Tell us a little about Bluemercury's founding. What was the "ah-ha moment" when you realized you might have a successful business?
Barry Beck: In 1999, living in Washington, D.C. and walking on M Street in Georgetown with Marla, we discovered an independent beauty boutique that carried a couple of interesting cosmetics brands. This was my big "ah-ha moment." I would say it was like a lightbulb went off in my head, but it was more like fireworks. Everything else had been pulled out of the department stores — kitchen goods by Williams-Sonoma, electronics by Best Buy, furniture by Pottery Barn, and so on. I thought, why not cosmetics? Back then, you could only buy cosmetics at department stores or drugstores. I loved the idea of a national beauty chain so much that I bought that store and renamed it Bluemercury.

The creation of some of America's greatest businesses come from the simplest of "ah-ha moments." These serendipitous junctures are so interesting, yet rarely considered. Have you ever heard of BURBN? It was a location check-in app for friends to meet each other. That company's "ah-ha moment" was when it realized the most used feature of its application was photo sharing. BURBN changed its name to Instagram, and the rest is history.

Another one of these moments came for Bluemercury in 2002 on the opening day of store No. 3, in Rittenhouse Square, Philadelphia. It was a bet-the-company move because it was our first store outside D.C. and we didn't have a lot of capital, so if the store didn't work we would have been out of business. The first sale of the day was more than $2,000. I remember the customer telling me, "This is the greatest thing that ever happened to Philadelphia; I don't have to travel to the mall anymore to buy my beauty products." She started to write a check, then looked up at me and said, "There's no sign. What do you call this place?" I said, "the name of the company is Bluemercury," then looked at Marla and said, "I think we've got a business here."


This was my big 'ah-ha moment' ... I thought, why not cosmetics? Back then, you could only buy cosmetics at department stores or drugstores. I loved the idea of a national beauty chain so much that I bought that store and renamed it Bluemercury.

—Barry Beck
TR: What was the "white space" missing in the cosmetics industry that you saw and were able to capitalize on?
BB: We've been lucky to continue to find the white space in luxury beauty retail because we're so data driven and able to quickly connect the dots to see trends and what's next.

Early on, after studying the retail landscape, we surmised that people weren't satisfied with their beauty shopping experience. Shopping for cosmetics wasn't convenient — products were only sold by brand and store sales representatives could be off-putting. We saw the need and rushed in — the department stores and drugstores left it wide open for us. We rapidly and successfully opened new units, garnered lots of media attention, and became known as something of the "Starbucks of Cosmetics." But we've always adhered to the company's mission of being the best in the world at giving beauty advice. Fast-forward to 2017, and Bluemercury has become an iconic luxury brand and household name. However, I'll never forget that it took us 18 years to become an overnight success.

Additionally, while studying the data, we determined that customers were increasingly coming into our stores looking for natural skincare and were unsatisfied because natural products had unappealing packaging, smelled bad and weren't effective. The problem was that the dermatologist-loved products were effective but had harsh chemicals such as parabens and phthalates. We saw another big opportunity.

In 2012, we set out on a research project to bridge the gap. We spent hours in the laboratory and nearly 200 formulas later, M-61 Powerful Skincare was born, which is the most natural and powerful cosmeceutical brand in the beauty industry. M-61, itself, has become a runaway cult-like success and best-selling brand.
TR: Which business leaders do you admire?

BB: For me, it's all about innovation and industry disruption. The leaders I respect and admire are those who attempt to reinvent genres, change industries and challenge the status quo. The top three executives I respect and admire the most and the lessons I've learned from each are as follows:


* Break the rules. Steve Jobs created the iPhone, which changed everything. The iPhone changed not just how we listen to music, use taxis and take pictures, but it changed the very fabric of how we live our lives.

* Solve a problem. Jeff Bezos helped cure dissatisfaction with the brick-and-mortar shopping experience by creating Amazon.com. No problem, no solution, no company. The bigger the problem, the bigger the opportunity.

* Get in the game. Who said it better than the founder of Nike, Phil Knight? Just do it! He would have never seen the opportunity for Nike if he had not started selling other people's sneakers first. Start a new company now.

Entrepreneurs and disrupters are everywhere. You don't have to be Steve, Jeff or Phil to create revolutionary change.


TR: Tell us about your leadership style.
BB: I'm a strategic leader and brand builder, and am passionate about building businesses into great brands that stand for authenticity. I always operate my companies as if my name is on the front door. It all starts with mobilizing my teams. I aim to inspire with an entrepreneurial spirit and unparalleled enthusiasm for my company's mission. If I could sum up my style, it would be, "Hey, come with me, I've got a great idea, let me show you the way."
TR: Do you have a mentor? Are you a mentee? Can you tell us about your relationship(s)?
BB: I believe everybody should have their own personal board of directors, not just for work, but for their personal lives as well. Endeavor to find those who will guide you with the proper prospective. This year, my wife and I launched the Beck Fellowship for Entrepreneurs at Cornell University. Those selected to become Cornell University Beck Fellows will receive a salary to work on their entrepreneurial ideas between semesters. We will offer our personal expertise in addition to eliminating the financial burden of starting a new company.

Also, as Bluemercury expands into new markets, we look for organizations through which we can provide stewardship and mentoring, as we've successfully done with Boys and Girls Club of Chicago and Big Brothers, Big Sisters of Los Angeles.
TR: What are your thoughts on the current state of the retail industry?

BB: The rumors of retail's death are greatly exaggerated, but it's understandable why so many retailers are in a state of alarm. Nearly one-third of the American population is under the age of 30 and grew up with the internet in the palm of their hand. When I think of the future of retail, I go to my CTO — not my chief technology officer, but my child technology officer. If my 14-year-old daughter were running Bluemercury today, what would she be doing differently? When my daughter was five years old, I gave her my mobile phone, possibly the world's most affordable babysitter. This started to reprogram the way she saw the world, and we're at the very beginning of how this will affect a new generation of digital natives as they grow up, get their content and make shopping decisions. Retailers are scrambling to figure out how these "young digerati" are going to behave in the future.

To many, the retail environment appears VUCA: volatile, uncertain, complex and ambiguous. Naturally, everyone is looking for an edge, but I don't believe technology alone is going to drive shopping patterns. People are inherently social beings who need interaction and love to be connected to each other. Rather than turning to technologists for the answers, maybe we should turn to anthropologists.
TR: What were the key early innovations for Bluemercury?

BB: We continue to revolutionize luxury beauty retail due to three key factors: people, product and place.

Our first key innovation was our radically different people strategy, which has become our enduring secret weapon. Our beauty experts are the most knowledgeable in the industry. I always tell our teams, I don't know exactly which beauty products we will be selling in the next five years, but I know we'll be the best in the world at giving beauty advice. This creates a trust factor from our clients and has become the source of a sustained competitive advantage.

Second, we endeavor to be innovative product curators and cosmetic brand developers. Our merchandising approach revolves around three core ideas. First, at least 20 percent of our business has to come from newness. It's the promise of something new to look at that drives customers into our stores and builds our brand. Second, look for brands with long innovation runways, endeavor to be an innovative curator and look to your vendor community for avant-garde pioneers to promote creativity. Third, create and launch annuity products — i.e., products that clients come in for year after year because they love them, they work and they can't live without them.

Lastly, our laser-focused real estate strategy successfully clusters our stores in markets, which makes us unique among luxury retailers, effectively building a moat of convenience around our customers. Our clustered stores benefit from established brand awareness.

Additionally, I'm always on the hunt for lasting value while sifting through thousands of real estate deals each year. I don't swing at every pitch, but when I swing I swing for the fences.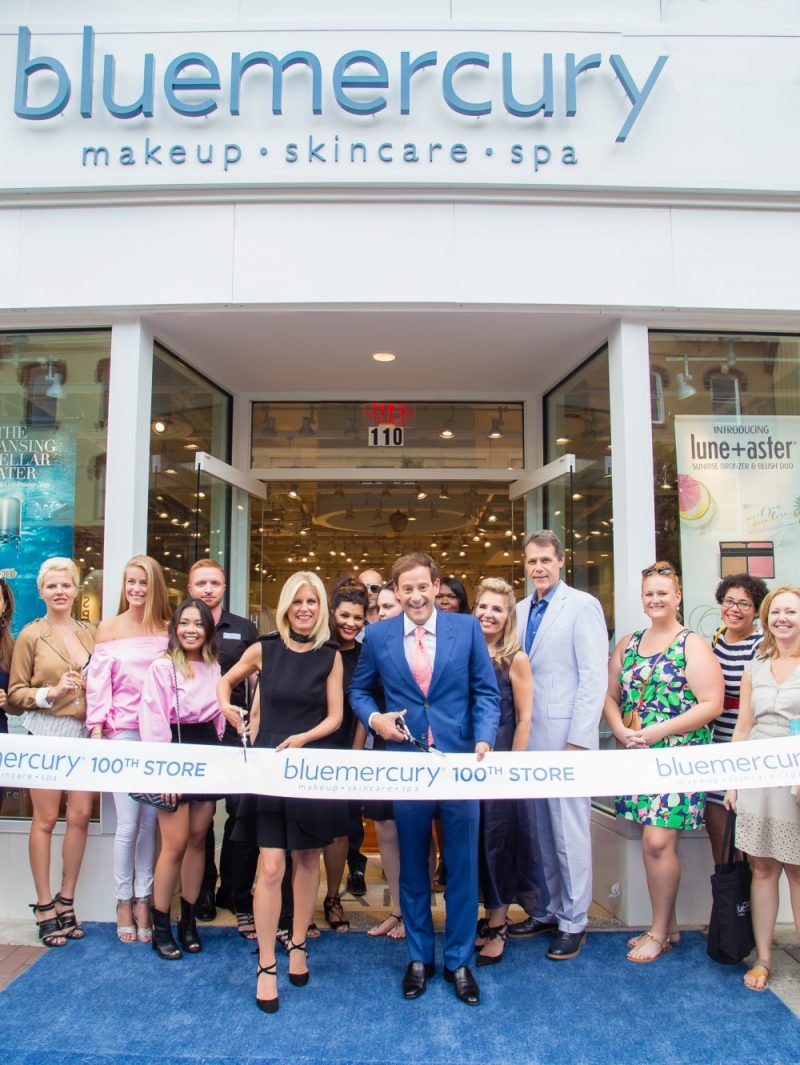 TR: What retail technology trends are you most interested in right now?
BB: I think about technology in terms of evolutionary vs. revolutionary innovation, and categorize it into three main buckets: near term, next generation, and truly upstream R&D.

Near-term technology for us is our artificial intelligence (AI) mirror at our New York City flagship store (pictured to the right). BluemercuryConnect allows us to implement social media shopping, bag-less shopping, and on-the-go delivery anywhere in Manhattan.

Next-generation technologies may include drone delivery of product and more powerful AI that recognizes you and your preferences as soon as you walk into a Bluemercury store.

The third bucket is truly upstream R&D, which may include revolutionary ideas like ordering online and then 3-D printing our brands at home. I only spend about 10 percent of my time thinking about these innovations since the full ecosystem has yet to be built, and it's unclear what our return on investment could be.


The innovation curve has gone vertical in every category. Only the people who are willing to think differently are going to survive, and even thrive, in this disruptive time in history.
TR:What's your entrepreneurial background?
BB: My father always told me, "I don't care what you do for a living, so long as you own your own company." I became a serial entrepreneur, always looking to disrupt the normal flow of industries, ones that have problems that need solutions. During my senior year of high school, I started a company and was earning more than most lawyers and doctors that my parents knew. At Cornell University, I started U.S. Maintenance with my brother, which completely disrupted the chain store maintenance industry and was acquired by The Emcor Group, a Fortune 500 company.


TR: What advice would you give to young entrepreneurs today?
BB: The first year is the hardest — don't get discouraged. In software terms, the first year you're going from Version 0 to Version 1. It's really buggy as you're inventing something new. V1 to V2 is buggy as well, but nothing like V0 to V1. You have to sprint your first year, then you ease into the marathon. Overnight successes are rare. If you can survive year one, you'll get the hang of it.

DROOM: don't run out of money. If you run out of money, it's game over. You need to survive long enough for good things to happen. Raise money when you can get it. Be scrappy, and focus on keeping your costs low and driving revenue. If you remember nothing else from this interview, remember DROOM

TR: To what do you attribute Bluemercury's success? And how about your personal success?
BB: I'm Bluemercury's Distrupter in Chief. We've been leading the retail revolution for more than 18 years, and are widely recognized as a pioneer of Main Street retail shopping in America. When we started Bluemercury, I was convinced this industry was ripe for disruption. Everything had been pulled out of the department stores, except cosmetics. Power players and industry leaders alike told me it couldn't be done, especially since I was an outsider. Attributes of mine that have become both a strength and a weakness are that I can be somewhat of a maverick (yet, an exceedingly good risk manager); I have a relentless and fearless pursuit of opportunity without regard to resources currently controlled; and I don't adhere to common convention in anything I do. I don't try to predict the future, I'd rather create it. I find my own road.

The innovation curve has gone vertical in every category. Only the people who are willing to think differently are going to survive, and even thrive, in this disruptive time in history. In fact, Bluemercury was so instrumental in changing the course of retail shopping in America that it has become one of the most exciting Harvard Business School case studies (case #9-818-025)


TR: How is Bluemercury's business evolving to account for changing consumer behaviors, particularly the increased use of mobile devices for shopping?
BB: The store is the hardware and what occurs inside is the software. I'm looking at a total upgrade and reinvention of the Bluemercury model through a digital lens. I'm intensely focused on this new generation of digital natives who grew up with the information super highway right at their fingertips. For me, it's not just about going digital, it's about becoming digital. My approach revolves around the three D's:

* Discovery: We start with a process of shaping our digital strategy and ambitions based on intense analysis of the current market trends and our capabilities.

* Design: I'm working to test and reinvent customer experiences with the introduction of high-impact new technologies such as our BluemercuryConnect mirror.

* Delivery: I'm focused on building an ecosystem of partners to provide products quickly and at scale, like our new platform which delivers beauty products to customers anywhere in Manhattan in less than one hour.


TR: What are the current pain points for Bluemercury? What are you doing to overcome those challenges?

BB: One of my biggest challenges is my strong, emotional connection and passion for Bluemercury. I've become part of Bluemercury, and it has become part of me. I'm a leader who loves to manage in the detail. I like to deeply understand every facet of the business — every transaction, every deal. As the company has grown, this has become more demanding. I've had to learn to let go as the company begins to operate at serious scale. Recognized as one of America's leading retailers with a world of opportunity in front of us, I've had the good fortune to captain Bluemercury through its next chapter.
TR: Bluemercury operates in a crowded market, with other leading brands such as Ulta, Sephora, and others. What's the company's strategy for differentiating itself from the competition?
BB: The reason why we were able to build a national beauty chain in what felt like legions of would-be competitors is that we created a unique business model that was unable to be replicated. Again, our sustained competitive advantage has always been our expertise. It's what sets us apart from the pack. It's our secret sauce and enduring secret weapon.
TR: Why did being acquired by Macy's make sense for Bluemercury?
BB: The sale to Macy's was an amazing recognition of the innovation and value we created. It was this storied Fortune 100 company's first acquisition in more than a decade. However, the sale to Macy's, a tier-one department store, is an irony that isn't lost on me. Yet in 2015, it was time for me to find a strategic partner to help Bluemercury scale to the next level.

When we looked at the whole landscape, Macy's was the obvious choice because it was so strong in its core retail and omnichannel capabilities. Many people don't realize that Macy's is the fifth largest e-commerce company in the United States, and one out of every two Americans shopped at a Macy's last year. Macy's has allowed us to remain entrepreneurial, swimming in our lane while we continue to learn from each other.
TR: Can you talk about the team you've assembled at Bluemercury, and how they factor into the company's success? What's your philosophy when it comes to finding and adding talent to the organization?
BB: I hire engineers because they're the perfect complement to me. They're highly logical, antiseptic thinkers, while I'm a passionate entrepreneur focused on big picture disruption. It's the perfect yin-yang relationship. In the final analysis, I endeavor to add talent to the fold who are smarter than I am.



TR: What are some results that you can share that show the success of Bluemercury?
BB: We're one of the fastest-growing retailers in the country. Last year, we grew our store count by more than 50 percent in an environment where many other retailers are closing. We've grown from an entrepreneurial company with a fledgling management team to a corporate office with more than 100 employees. We now have teams with operations in over 30 states, all run out of our corporate headquarters in Washington, D.C. Armed with nearly 2,000 employees, I see nothing on the horizon to keep us from our continued acceleration and dominance in this sector.