The Impact of the USPS Price Increase on Shippers
This is a guest post by Gordon Glazer, director of strategic partnerships and modal optimization strategies for Shipware, a parcel audit and consulting firm that helps volume parcel shippers reduce shipping costs. Gordon can be reached at gordon@shipware.com.
The USPS Board of Governors has proposed a major price increase for competitive (i.e., shipping) products to take effect on Jan. 17, 2016. Rather than an across-the-board increase, the USPS has carefully selected areas where there's room to raise pricing while still maintaining its competitive edge in residential delivery. The USPS is also phasing out Commercial Plus Pricing (CPP) to match the industry standard of a single set of published rates.
Before I jump into the analysis of the pricing changes, let's peek at some of the structural changes.
New Pricing Categories
Parcel Select Non-Presort will be renamed Parcel Select Ground.
Standard Post will be renamed Retail Ground.
Parcel Select Lightweight Machinable and Irregular rates will be combined into a single price table.
Up to $200 of merchandise insurance and $100 of document insurance with outbound Priority Mail International (PMI) will be offered at no additional charge, except for Priority Mail International Flat Rate Envelopes and Small Flat Rate Boxes.
More country groupings will be added for Priority Mail Express International (PMEI) and Priority Mail International (PMI) flat rate items.
A fee will also be established for the International Service Center (ISC) zone chart for Priority Mail International pieces destined to Canada.
Categories to Be Eliminated
Priority Mail and Priority Mail International Regional Rate Box C, and Critical Mail;
Priority Mail Express and Priority Mail Express International Flat Rate Boxes;
First-Class Package Service (FCPS) three-digit, five-digit and ADC presort levels;
Parcel Select ONDC Presort and NDC Presort price categories; and
Parcel Return Service RNDC price category.
First Class Package Services (FCPS)
To simplify the FCPS product, the three-digit, five-digit and ADC presort levels along with CPP category will be eliminated.
The 14, 15 and 15.999 ounce offerings that are currently only available as CPP will be consolidated into the "Base" price category.
Overall, the FCPS price increase was announced as 12.8 percent (Base), however, the average increase is reduced to 8 percent with the new CPP lanes.
Priority Mail (PM)
On average, the Priority Mail price increase is reported at 9.8 percent.
Base is increasing on average 9.4 percent, and is now a flat 13.9 percent discount off Retail.
CPP Pricing category is maintained. It's the only category remaining that still offers a (CPP) discount below "Base." New pricing proposed will be 3 percent less than Base, but is taking a larger increase of 18 percent in 1-5 Lbs. lanes.
In September 2014, the USPS lowered pricing for PM-CPP in the inner zones from 4 – 40 Lbs. by an average of 28.2 percent. With this most recent increase, those same lanes are going up by 35 percent. A few lanes have increases greater than 100 percent!
Note: The Regional Rate Box C and Critical Mail will both be eliminated because of low customer usage.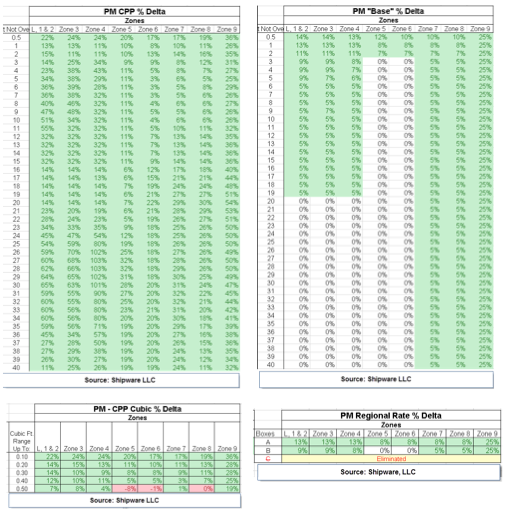 Priority Mail Express (PME)
average 15.6 percent increase;
Commercial Base prices will increase 17.7 percent;
Commercial Base prices will be set at a flat 10 percent discount off of Retail prices;
Flat Rate Box will be eliminated due to low volume of usage;
CPP prices as a whole will receive a 48.2 percent increase to match "Base"; and
deeper discounting may still be made available to customers through negotiated service agreements (NSAs).
Parcel Select Lightweight (PSL)
This is the service that parcel consolidators use USPS for last-mile delivery. This ounce-based category is dominated by companies like UPS Mail Innovations, UPS SurePost, FedEx SmartPost, Newgistics, DHL and OSM. While these players have NSAs that should provide some insulation to the changes, some will likely use this as rationale for additional increases.
Prices for Parcel Select Lightweight will increase by an overall average of 23.5 percent.
Reversing a trend from the last increase, deeper induction will be less impacted (larger consolidators induct at the DDU level).
Parcel Select Lightweight "Machinable" and "Irregular" price tables will be combined.
Parcel Select Nonpresort will be rebranded as Parcel Select Ground (with a 1.9 percent price increase).
Parcel Select Origin Network Distribution Center (ONDC) Presort and Network Distribution Center (NOC) Presort price categories will be eliminated.
Parcel Return Service
Overall price increase of 5 percent.
Return Network Distribution Center (RNDC) pricing will be eliminated because of low customer demand and to simplify product offerings.
Domestic Extra Service Fees
Unlike the private carriers, the USPS doesn't have accessorial fees, but it does offer some "Extra Services" that the sender may select like "Adult Signature" or "Package Intercept." These fees for these services will increase 3 percent to 4 percent.
First Class Package International Service (FCPIS)
The overall increase for FCPIS will be 21 percent.
CPP pricing will be equivalent to Commercial Base.
Deeper discounting will still be made available to customers via NSAs.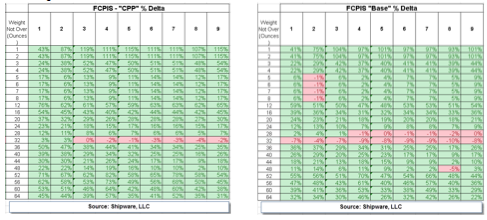 Priority Mail International (PMI)
The average overall increase for PMI will be 10.2 percent.
Current CPP customers will experience increases around 24 percent.
CPP pricing will be equivalent to Commercial Base.
Deeper discounting will still be made available to customers through NSAs.
Prices for PMI flat-rate envelopes and boxes will be further separated into additional country groups.
Insurance will also be offered up to $200 for merchandise and $100 for documents in lieu of weight-based indemnity available under current international exchanges.
A fee is also being established for the International Service Center (ISC) zone chart that's used to determine the applicable Origin Zone for PMI pieces destined to Canada.
The PMI Regional Rate Box C will no longer be available for PMI Regional Rate Boxes.
Extra service fees stayed relatively flat.
Nobody likes change, but it's a reality we all must adapt to. The growth in competitive "Shipping Services" is one of the shining achievements since the Postal Service's financial decline that began in 2007 primarily due to declines in First Class Mail volumes and future retiree health obligations due to the PAEA. However, while the USPS's Shipping and Package Service segment has experienced phenomenal growth, profit margins are significantly less robust than the profitability of First Class Mail. I view the pending 2016 increases as a necessary and important step in the economic recovery of the U.S. Postal Service.
It should be noted that UPS has expended tremendous resources to prove to the Postal Regulatory Commission (PRC) that the USPS isn't covering its institutional costs. To date, the USPS has successfully defended its cost coverage formulas; these adjustments will help. Now if Congress can pass some meaningful postal reform, perhaps the Postal Service can arrive at a sustainable balancing point for the foreseeable future.