FedEx to Increase Fuel Surcharges on All Products Effective Feb 2, 2015
FedEx has confirmed it will change the tables used to calculate fuel surcharges. Fuel surcharges for FedEx Express, FedEx Ground and FedEx Freight will change effective Feb 2, 2015.
On the heels of FedEx's general rate increase (effective today) and changes to the way it will price all ground packages based on dimensional weight, the changes reflect yet another major rate increase. FedEx Express and International services will increase as much as 4 percent (see Table 1 below).
I've highlighted the current fuel index to demonstrate that FedEx Express and International products change from 4.5 percent today to 6.5 percent with the February 2015 change.
Ground products will go up as much as 3.5 percent from the current fuel surcharge table (see Table 2 below).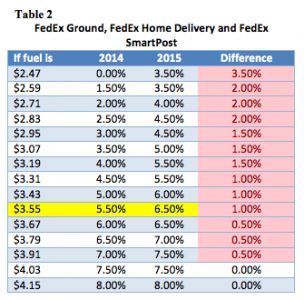 Again, the current fuel surcharge index has been highlighted, indicating a 1 percent rate increase effective Feb. 2. Note this rate increase should impact all FedEx shippers unless a specific fuel surcharge table is part of their contract.
So whose fuel surcharge table is better, FedEx or UPS? Generally speaking, FedEx continues to maintain a slight advantage over UPS of about .5 percent (see Table 3 and Table 4 below).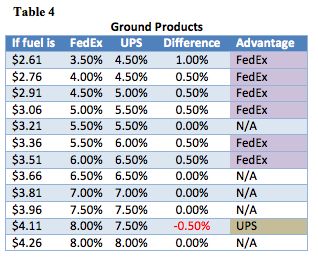 The new FedEx fuel surcharge tables (including FedEx Freight) is available for viewing at http://www.fedex.com/us/services/fuelsurcharge-2015.html.
E
Rob Martinez
Author's page
Rob Martinez is the CEO of Shipware LLC, a professional services firm that transforms businesses through intelligent distribution solutions and strategies. Rob has helped some of the world's most recognizable brands reduce parcel shipping costs an average of 25 percent through contract negotiations, rate benchmarking, modal optimization, invoice audit and other savings vehicles. A cum laude graduate of UCLA, Rob has 20 years of transportation industry experience, including executive positions at DHL and Stamps.com, in addition to his work as an outside consultant since 2001.