Top E-Commerce Trends at eTail East
Over 1,500 top retailers gathered in Boston this week for eTail East to discuss e-commerce trends and share ideas on the future of online retail. Here's a recap and the top lessons I'm taking home from this jam-packed four-day event.
Top Retailing Themes at eTail East
We often talk about the idea that "content is king," an accurate description of the importance that high-quality content now plays in capturing attention in today's fast-paced world. However, at eTail East we took a step back and remembered that before we focus on content we remind ourselves that it all starts and stops with the consumer. The consumer is truly king.
Growth in Omnichannel
Retailers need to shift and adjust channel strategies due to changes in the market.
There's been a lot of talk in the past about how consumers browse on mobile but buy on desktop. More recently, however, that trend is changing. Mobile is now becoming a major source of revenue for retailers.
In fact, James Smith from Criteo revealed that so far in 2015, 41 percent of purchases have been made on a smartphone and only 37 percent on desktop. Will 2016 be the year we break the 50 percent purchases mark on mobile? Experts say "YES"!
When looking at mobile purchasing trends, it's also surprising that more mobile purchases were made on smartphones (54 percent) than tablets (46 percent).
Contrast that data with the following: 87 percent of consumers say that current mobile purchasing experiences aren't very good. Yet, 83 percent of retailers think their mobile web experiences ARE "very good."
There's clearly a major disconnect. Retailers that can bridge this gap and figure out how to create engaging and easy-to-shop web experiences will have a competitive advantage — and see significant conversion increases on smartphones.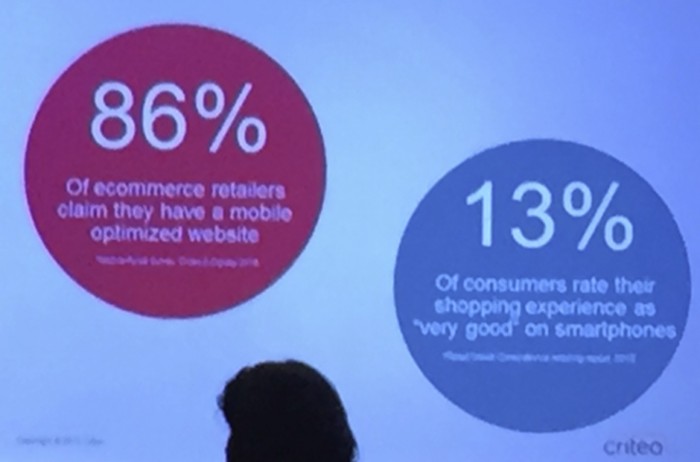 But let's not forget, one channel doesn't fit all and retailers need to maintain an omnichannel approach that engages consumers across multiple devices. Desktop isn't passé. Criteo asserted it might be more about the time of day. Desktop sales peak during business hours while smartphones sales peak after 6 p.m.
It's clear that if the experience is engaging, designed for omnichannel and easy to shop, then an increase in mobile conversion is inherent and impactful.
What is Innovation?
Innovation starts with cultures that aren't afraid to fail.
Annabela Perozek, chief marketing officer of ShoeBuy, and Cindy Starr, senior vice president of marketing at Vistaprint, were in "violent agreement" that the first step to innovation is having an organization that's not afraid of failure.
In an environment where people are encouraged to be bold, employees are willing to try creative, new ideas because they know the organization will support them — even if the new idea doesn't come to market or make an impact.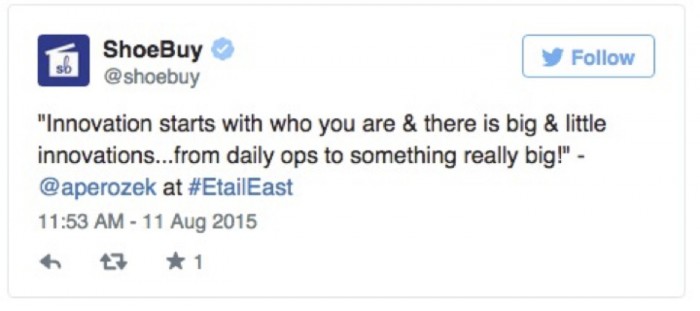 Everyone is looking for the disruptive technology or brand experience that will attract new shoppers, keep them on site and ultimately convert more sales, but innovation comes in many shapes and sizes.
It might be the "big idea" of the year, complete with a lab team under secrecy or a small incremental change that moves the consumer experience forward. Regardless, leaders that instill a culture of embracing innovation in their companies reap the rewards of invention and modernization that often translate to bottom-line impact.
Embracing change can be difficult, but it's only through cultivating an inclusive environment that welcomes new ideas, both big and small, where real thought leadership can emerge.
E-Commerce Growth
Perhaps the most pervasive theme at this year's eTail East conference was the customer journey. Knowledge of your brand and its competitive brand expectations must closely align with your consumer experience strategy.
We heard countless case studies that highlighted the clear relationship between more engaged consumers, standout shopping experiences and higher conversion rates. What did all of these experiences have in common? They drove e-commerce growth by delivering:
differentiated, unique and highly branded experiences which consistently outperformed the competition;
personalized customer service elements — e.g., embedded chat or user-generated reviews — that forged trust and conversions; and
ease of shopping — they consistently avoided the need to force their visitors to hunt through the grid of products to find featured items.
These pointers dovetailed nicely with a lot of discussions about maximizing holiday revenue. The biggest takeaway? This year isn't over yet. Impactful changes can still be planned and executed for the 2015 holiday season. Tuesday's workshop, "9 Ecommerce Tips You Can Implement In The Next 6 Months," showed that there are a lot of quick wins out there that will help retailers increase holiday conversion rates.
A Boutique Conference
eTail East was a great learning experience for retailers and technology companies alike. The intimate setting allowed for great conversations and gave us a lot to think about for the remainder of the year. As market conditions change, technologies advance and consumer behaviors shift at unprecedented speeds, forums like eTail East help us keep our finger on the pulse of these changes and prepare for the future of e-commerce.
Beth Moriarty is senior vice president of products and business development at Zmags, a content marketing technology company. Follow @bethford9639 and @Zmags.
Related story: Commerce Born Out of Charity