Event Marketing: Summer Lovin'
Retailers are attaching themselves to seasonal events to acquire fans — and customers
Family vacations, neighborhood barbecues, fireworks, outdoor concerts … the list of fun summertime activities that people look forward to all winter long seems to be endless. People are out and about in the summer, basking in the warmth of the sunshine and the camaraderie that comes with spending time with family and friends.
Retailers have taken notice. They're increasingly taking their stores on the road to meet consumers on their terms. Dubbed event marketing, the strategy is paying off for retailers in increased brand awareness, consumer engagement and, ultimately, sales.
The logic behind event marketing is simple: get consumers to associate your brand with an event they love. Think how the Macy's Thanksgiving Day Parade has become a part of American culture, broadcast across the nation to consumers preparing for the holiday feast — and holiday shopping. The department store chain believes the goodwill garnered from its sponsorship of the Thanksgiving Day parade keeps it top of mind with consumers as they kick off their holiday shopping.
Here are three examples of retailers leveraging consumers' love for outdoor music festivals as an extension of their brand marketing:
Vans Warped Tour
The Warped Tour is the largest traveling music festival in the United States, and the longest running touring music festival in North America. This year's 21st annual tour includes 44 shows and hundreds of bands performing in the U.S., Canada and the U.K. (the tour closes with a show in London). As it has been for the Warped Tour's entire existence, lifestyle footwear and apparel retailer Vans is the event's lead sponsor. Joining Vans as a featured sponsor of this year's tour is Journeys, an omnichannel retailer of lifestyle and branded footwear for teens and young adults. (Vans and Journeys are brand partners.)
The Warped Tour draws a diverse audience, and has skewed more to a younger demographic in recent years as the music has evolved to include more genres, including rock, hip hop and pop. The younger audience aligns nicely with Vans and Journeys' target demographics, creating a synergy between Warped Tour attendees and the retailers.
"Music has always been an integral part of connecting our core consumer to the Journeys brand in a very emotional and authentic way," said Kari Irons, senior vice president of marketing for The Journeys Group, in a press release announcing the brand's three-year partnership it signed with the Warped Tour last year. "This tour gives Journeys the opportunity to share a lasting, memorable experience with our consumers and employees in an environment that captures the spirit of youth culture."
In addition to on-site activation and branding initiatives, Journeys is promoting its sponsorship of the Warped Tour in its 800-plus brick-and-mortar stores. The retailer has created tour-specific point-of-purchase signage and exclusive content for the in-store Journeys TV network.
At each stop on the Warped Tour, Vans sets up what it calls the "chop shop." After an attendee purchases official merchandise from the Warped Tour merchandise tent — merchandise that's been manufactured by Vans — they can customize it to their personal tastes in the chop shop. The resulting tie-dyed and cut apparel can be seen displayed on attendees proudly wearing their creations.
"Every year, Vans heads out on the best summer tour, traveling to more than 40 cities across the country, and we meet thousands of people who love Vans just as much as they love their favorite bands," said Steve Van Doren, Vans' vice president of event and promotions, in a press release announcing its sponsorship of the Warped Tour. "It's a great way to connect with our consumers on a personal level, and Vans' partnership [with the Warped Tour] has enabled our brand to connect and support our fans alongside the music they love."
GNC Gets in the Groove With Bonnaroo
In celebration of its 80th anniversary, General Nutrition Corporation (GNC) got into the festive spirit by partnering with the Bonnaroo Music & Arts Festival, which took place June 11-14 in Manchester, Tenn. The Pittsburgh-based retailer of health and nutrition-related products executed a multifaceted marketing plan as part of its Bonnaroo promotions, including on-site experiences during the festival, as well as promotions prior to and after the event.
For example, GNC launched a Bonnaroo Sweepstakes prior to the event, offering consumers the chance to receive VIP tickets to the 2015 or 2016 Bonnaroo festivals. The sweepstakes ran May 17 through June 30. From May 17 to June 1, winners received two Bonnaroo 2015 tickets. From June 1 to July 1, winners received two Bonnaroo 2016 tickets.
GNC also promoted a "Festival Survival Kit" on its website. The customized product kits — one for men and one for women — were designed to make sure Bonnaroo attendees "never miss a single set." They included GNC products such as healthy meal replacements, high-protein snacks and supplements.
At Bonnaroo, GNC set up a tent it called "LIVE LOUD Live Well powered by GNC." The tent was located in Centeroo, the festival's main activation. The area included an outdoor patio with hammocks and outdoor games (foosball, cornhole, skeeball), as well as an enclosed (and air conditioned) tent that featured a fully staffed product sampling and sales bar where attendees could try GNC products. The space was designed to help Bonnaroo attendees recharge (literally and figuratively) and refuel.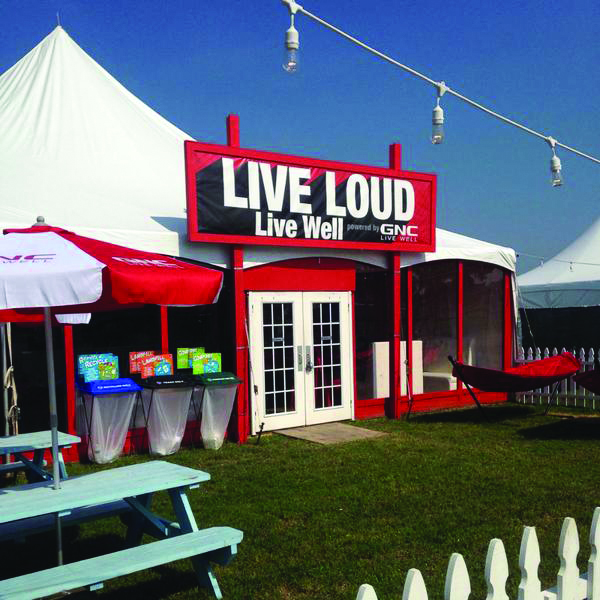 The LIVE LOUD Live Well tent also included a photo booth with social sharing capabilities, lounge seating and interactive group activities that promoted GNC's message of health and wellness.
Fans at the LIVE LOUD tent also had a chance to win GNC-branded giveaways, with prizes such as 2015 instant VIP Ticket Upgrades and tickets to Bonnaroo 2016. In addition, GNC was the presenting partner of the festival's third annual Roo Run, a 5K race that's held on Saturday morning of the event.
"As a global leader in health, wellness and performance products, it's only natural that we partner with the Bonnaroo festival, one of the music scene's leaders in celebrating a healthy and positive lifestyle," said Jeffrey R. Hennion, executive vice president and chief marketing and e-commerce officer of GNC, in a press release announcing the retailer's partnership with Bonnaroo.
H&M Makes Coachella About More Than Music
Music festivals are no longer just about the music. The fashion culture embedded within music festivals is thriving, particularly over the last few years, and retailers have taken notice.
H&M, the fast-fashion apparel brand, recently partnered with the Coachella Valley Music and Arts Festival (Coachella) to capitalize on the growing trend of festival fashion. Coachella attracted 100,000-plus millennials to the Southern California desert over the music festival's two weekends this past April.
H&M first became a sponsor of Coachella six years ago. However, 2015 marked the first year the Sweden-based company was a featured sponsor. In addition, H&M took its love affair with the music festival one step further and created a Coachella-branded line of clothing.
The "H&M loves Coachella" line features 70's inspired fringe ensembles, tie-dye T-shirts and more, helping festivalgoers find the perfect outfit at a reasonable price. The line is available in 350 H&M stores and on the retailer's e-commerce site. By launching the line in partnership with Coachella, a festival considered at the forefront of its genre and one of the most fashionable festivals in the world, H&M was able to assimilate its brand reputation with the festival.
In the past, H&M has been known for creating curated events away from the noise of the concert. Last year, the retailer used Coachella as a platform to announce its brand partnership with Alexander Wang, further increasing its social media presence. This year, H&M hosted a private pool party for celebrities and VIPs in attendance at Coachella.
Lastly, H&M set up a pop-up shop at Coachella that included a 360-degree "Selfie station," and gave attendees the opportunity to try an Oculus Rift-powered virtual reality experience, offering customers the ultimate omnichannel virtual shopping experience. The space even included free hair and makeup trials, a virtual runway, and the opportunity to be seen in a music video for one of H&M's affiliated artists.