How Crocs Used Data to Optimize its Email Promotions
Promotions, discounts, sales, promo codes ... no matter what you call them, promotions are considered by many retail marketers a necessary evil. They drive customer engagement and purchases, but hurt the bottom line. They get customers excited, but might hurt your brand image.
Crocs, an omnichannel retailer of casual shoes for men, women and children, uses customer data and analytics to get the most out of its promotions ­­ specifically email promotions. The three tips below on how Crocs is using data to optimize its email promotion strategy and execution are pulled from a recent Custora webinar with Kelsey Vendetti, Crocs' email marketing manager.
1. The right (promotional) message to the right customer at the right time. Like with any other marketing campaign, optimizing promotions starts with understanding your customers. According to Vendetti, knowing what your customers expect and what gets them to engage is critical at every step ­in planning a promotional calendar, setting up triggered email campaigns and sending segmented promotional emails.
For that, you'll need to invest in analytics and take action upon the insights you discover. Being able to quickly and easily segment your customer base according to different variables (e.g., past purchases, demographics, expected lifetime value) is a key step on your way to creating more targeted and effective promotional emails.
"The first piece is taking a broader look at your customer base and what's unique about them, and then building segments accordingly," Vendetti said.
In its recent "Crocs at Work" promotion, Crocs targeted customers who previously made purchases in the "Crocs at Work" category. Additionally, Crocs used predictive affinity segmentation to discover customers who haven't bought from the category in the past, but were likely to do so.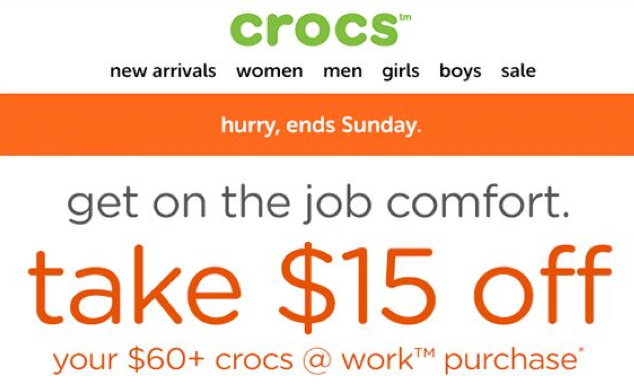 This tactic allowed Crocs to engage more customers who would be interested in "Crocs at Work" products, without having to email the entire customer base. Vendetti reported strong results for the campaign, and recommends testing different segmentation strategies within your own customer database. Which brings us to ...
2. Always be testing. There's no "one size fits all" approach to an effective segmentation and email promotional strategy. The best e­-commerce marketers continually experiment to optimize their email promotions strategy, and they always keep their goals in mind when testing. Crocs runs a variety of different tests across its promotional strategy, including the following:
discount size;
discount frequency;
discount type (dollar off or percentage off, with or without a minimum, buy one get one free, free shipping);
messaging;
timing; and
number of email reminders.
"Through testing, we've found that urgency messaging drives double-digit increases in engagement metrics," said Vendetti. "When you push your customer base, they definitely react. We try keep the minimum purchase for the promotion slightly above our average order value to drive these metrics up. We've noticed that putting promo codes in the pre­-header results in higher click-to-open rates."
3. Some customers might not even need a discount. Surprising as it may sound, sometimes a campaign can work just fine with no discounts. For a recent "Crocs for Kids" campaign, Vendetti saw that. "The message itself drove customers to engage without us having to use a promotion."
In other cases, it might be that a certain portion of the customer base will respond to a campaign and make a purchase with no discount. For example, in an effort to cut back on promotions in its winback campaigns, Crocs used predictive analytics to ​identify pockets of promotion-sensitive customers ​within its database. By sending no promotions to those customers, Crocs saw a lift of two times in revenue per user compared to the control group.
Parting Thoughts
"​If you don't know where you're going, any road will take you there." ​Begin optimizing your promotional email strategy by asking yourself what challenge you'd like to solve and determining how you will measure results. Segment your customers using behavioral and demographic data to create more personalized campaigns, then deliver the right promotional offer to those for whom it will make the most impact. Always test and continue to learn and improve your campaigns.
Netta Kivilis is the head of marketing at Custora, a predictive analytics platform.