Holiday Marketing: Retail Lessons From Around the World
Every time around Christmas, I think of this movie where Arnold Schwarzenegger struggles to find a Turbo-Man for his kid. Depicting the commercialization around Christmas in a lighter vein, "Jingle All the Way" was the first movie that made me see Christmas through the retail lens.
Interestingly, it's my inbox and smartphone doing the job these days. I start getting discount and offer emails at least a couple of months prior to holiday season — totally understandable as over 19 percent of total sales happen during this period.
Almost every company is trying to cash in on the holiday season. And since there isn't much that you can do about the commercialization of Christmas, you might as well make the most of it. I've rounded up experiences and lessons from retailers, for retailers, for clever and profitable holiday marketing.
Mobile and Location-Based Marketing
All successful omnichannel retailers will tell you that mobile — and particularly geo-targeting via mobile — is the next big thing. Here are some hard facts that suggest this isn't just yap:
In a webinar sponsored by Beaconstac, Anindya Ghose of NYU Stern said that more than half of all purchases within stores are unplanned, and app-generated coupons delivered while shoppers were in stores increased their spending by 16 percent.
A lot of retailers like Timberland and Kenneth Cole are using beacon technology to send targeted notifications and personalized offers in their stores. Timberland saw a 72 percent engagement rate with over 250 purchases in just six months after it started using beacons.
In addition, beacons are used to give out location-specific loyalty rewards and product recommendations.
Niche Product Promotion
Curt Soul, director, Elevate With Wings (EWW), said that this holiday season he plans to use data and analytics to showcase best-sellers for increased conversions. EWW will identify and showcase best-selling products prominently, helping shoppers find great products without having to search for them.
Another great way to make sure your customers find a particular brand easily is to use microsites or one-page websites. These websites are easy to create and deploy, load quickly, and are focused on conversions. Plus, you can easily segment your audience and tailor your campaigns keeping them in mind.
For instance, thelook.com has built several microsites for various brands like PKZ, Feldpausch, Burger, and BLUEDOG. All these sites offer personalized experiences to visitors while allowing marketers to build niche campaigns and holiday offers.
Mind you, this isn't something that's the privilege of large brands. If you want to create retail mini-sites for your product or service brands, you can start with something simple like Spaces. It allows you to create single-page websites or landing pages with full e-commerce (and standard user experience) functionality in minutes, allowing you to carve out unique and personalized experiences.
Creative Email Marketing
A lot of people go so far as to say that new technologies and social media have replaced email marketing when it comes to instant conversions and promoting impulse purchases. These stats prove otherwise.
Email is by far the most effective direct marketing channel for driving digital sales as well as foot traffic to your physical stores. Make sure you don't mess up the following five factors:
1. Personalization: The scope of email personalization is so wide that retailers are still experimenting with opportunities. Go through your current emails and drip campaigns with a fine-toothed comb to weed out any missed opportunities.
Here's an example of abandoned cart email from Overstock.com: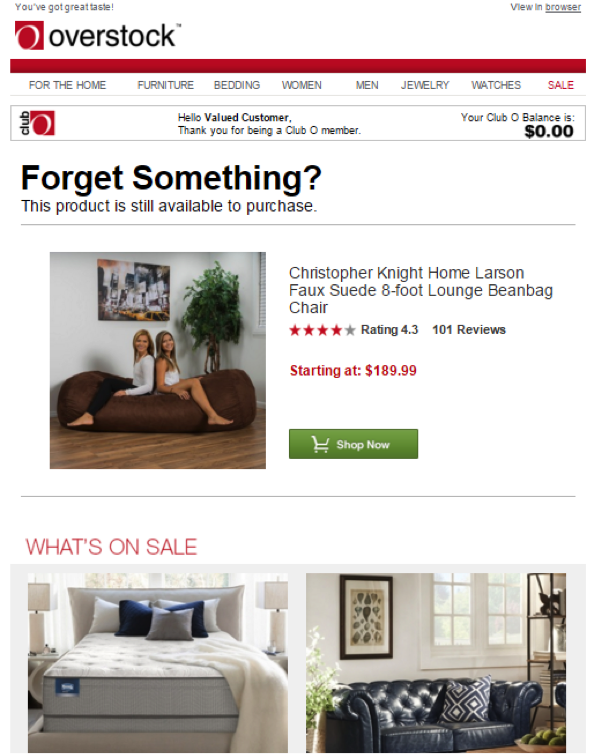 I see a lot of missed opportunities. For instance, "Hello Valued Customer," could have easily been replaced with "Hey Jane, don't you want that cozy beanbag?" And Jane probably browsed other bean bags, sofas or chairs after this lounge bag, so it would have been nicer to see "Other Items Viewed" instead of "What's On Sale."
2. Frequency: Another important email marketing lesson comes from Haralee.com, a small business e-tailer.
Haralee Weintraub, CEO of Haralee.com, tested email marketing results based on frequency and was surprised to find that only its emails sent on Black Friday, Small Business Saturday and Cyber Monday did well.
Offer emails sent after the holiday periods weren't well received. In fact, some of the brand's customers started opting out of its newsletters. After all, how many pajamas could a woman possibly need!
This is a very important lesson – if you start finding a lot of people suddenly unsubscribing, you must reduce the frequency of your emails or give subscribers the option to choose what kind of emails they'd like to get and how often.
Better yet, segment your list based on subscribers' preferences and buying habits. And trust me, this is easy. A simple email marketing solution like MailChimp will allow you to segment your list based on subscription source, geo-location, engagement, etc.
3. Loyalty: The next lesson comes all the way from Australia. Nick Baker, CEO of RedBalloon, observed: "So many sites today, as soon as you visit, have a pop-up starter that says 50 percent off! But if I'm meeting you for the first time, I wouldn't say, 'Hey I've done this, bang, book me now!'"
Nick's theory is that online selling is like dating. With a typically outright and frank manner, he explains, "You don't propose on the first date, just as we don't expect customers to necessarily make a purchase on their first visit."
Nick reiterates that loyalty is a very important point in customer segmentation, and that retailers should design loyalty programs carefully based on previous buying behavior.
Consider this email below I received from Overstock.com just a day after I signed up. I was surprised to see my FREE membership was upgraded to Overstock's Club O Silver program!
I would have appreciated this email, but after a purchase or two, not immediately after signing up. This makes me suspect that almost all shoppers turn into "valued customers" within a day. There's no charm in being a privileged member of such a club.
4. Timing and Urgency: A lot of emails are like ticking time bombs – "Last 2 days to go!," "Only 2 items in stock!"
Consider this example below from Vera Bradley. This email was sent the day before Halloween, and recipients had only two days to claim the free tote, which created a real sense of urgency combined with the sense of promised "treats." Plus, the GIF is really cool.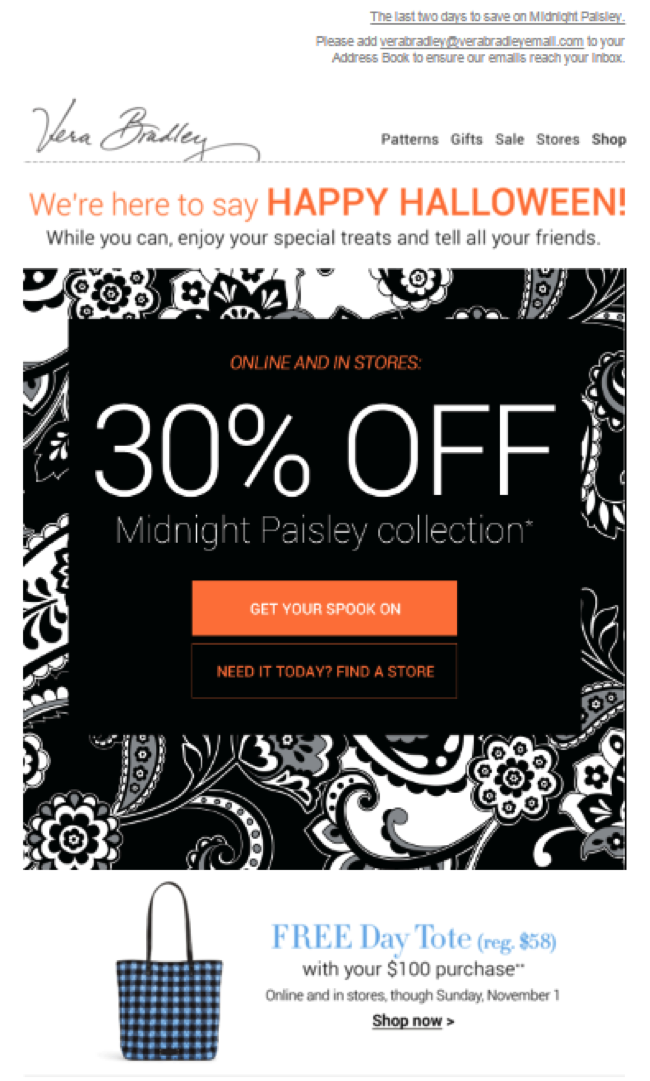 However, urgency doesn't always work. There's always a risk that these emails may go unnoticed.
5. Contests and Deals: A winning sales email strategy combines a great offer with gamification (read, contest). Take a look at this email below from content promotion network CoPromote.
What I like about this campaign is that CoPromote isn't giving out a free offer or discount outright, but providing a fair chance to everyone to participate in a contest where the prize is its own product.
Such contests promote awareness about your products as well as increase customer engagement. Needless to say, promoting it via email multiplies the chances of success.
Discounting the Discounts
Perhaps the most important lesson to be learned in 2015 is to muster the courage to put an end to dramatic (and draining) discounts and offers that may cause you to one, struggle to fulfill orders on time and two, leave your stores devoid of stock that could be sold for full price after the holiday season.
Apple and British supermarket chain Asda offered no Black Friday deals this year. A lot of businesses like Marks & Spencer and Boohoo.com considered doing away with Black Friday too, but eventually ended up participating.
According to Neil Catto, Boohoo.com's finance chief, "The whole retail industry has found it hasn't been particularly helpful to have so much trade in such a short period of time and at such high discounts. We'll all learn our lessons this year."
If you're not sure of making profits in lieu of volume, there's no need to jump onto the holiday sale bandwagon. A lot of businesses — both small and big — are considering approaching the holiday shopping frenzy cautiously and cutting back on deals and discounts.

Takeaways
What we've learned from these retailers is simple and something that we've known all this time but may have chosen to ignore:
There's no future without technology in it. From mobile payment methods to "nearables," the success of retail and e-commerce lies in making the best use of technology.
Despite being one of the oldest methods of internet marketing, companies still haven't mastered email. From personalization to frequency, a lot of areas need improvement.
Retailers need not give in to pressure and dish out hefty discounts just to emulate bigger or popular competitors.
Rohan Ayyar is responsible for many functions at digital marketing firm E2M, including SEO and analytics.
Related story: 7 Wins for E-Commerce From Advances in Point of Sale
E
Rohan Ayyar
Author's page
Rohan Ayyar is the regional marketing manager for India at SEMrush. His blog, The Marketing Mashup, covers digital marketing from the perspective of B2B, B2C, lead generation, mobile marketing, SEO, social media, content marketing, database marketing including predictive analytics, and conversion rate optimization. In addition, he'll look at emerging marketing technology and how marketers can use it. Reach Ayyar at searchrook@gmail.com.