3 Examples of Effective Retail Marketing
Marketing has never been just about selling. It's about telling a story, conjuring a feeling and inspiring an audience. It's about doing anything to make that ever-so-valuable connection with an entire community. People aren't just buying a product, they're buying a brand. If your brand is strong and you connect well with shoppers, then this article isn't for you.
If not, then we need to do some work! Before we shame you for your poor choice in marketing (kidding!), we'll walk you through some companies that are doing it right. Take some notes about these three examples and uncover true examples of brilliant product marketing.
Master Your Audience: BKR
Women who fall in the 20-year-old to 30-year-old age range have probably seen these high-class, luxury water bottles everywhere. They're chic, made of glass and complete with an outer matte finish in several colors.
Sure, a glass water bottle may seem odd and slightly impractical, but BKR is doing some things right here.
First, BKR knows its target audience. On its homepage, there are presumably fashion models in various poses, caressing BKR water bottles. Or heck, maybe not even holding a water bottle at all. Why does it matter? Cool, pretty women in stylish clothes are hanging out in hip places — the product doesn't even matter. They're saying, "Oh, hi. Didn't see you there," in a way that makes shoppers love them and want to be them. "Beauty will save the world," friends. So, sure, buy a water bottle.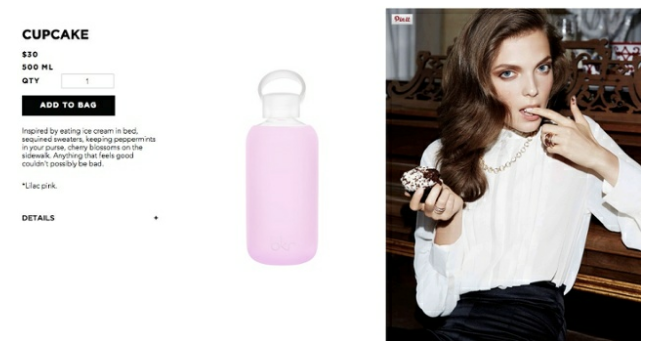 All jokes aside, BKR knows what it's doing. It's targeted a specific audience and taken risks to connect with them. Even the names of the bottle colors are clever and draw in fashion-crazed shoppers. Instead of fuchsia, it's "lola." Is that bottle white? Absolutely not, it's obviously "boo." Swap peach for "bellini," teal for "dive," and suddenly it's much more enjoyable to shop.
What you can learn from BKR:
Don't be afraid to take risks and commit to an ideal customer. If your marketing is "everything to everyone," it will be nothing to no one.
Test color names and try something more creative.
Take customers on a journey. Provide different scenarios that include your product to help customers picture owning it.
Be thorough. BKR makes even its individual product descriptions clever and on brand.
Use Relevant Content to Draw Awareness: Beardbrand
Beardbrand, a creator of high-quality grooming products, began in 2012 as the lifestyle blog of beardsman Eric Bandholz. Tired of beards being left to kitschy, cheap products and feeling that low-quality items led people to consider beards a short-lived fad, Bandholz recognized a growing need for better grooming products and transitioned to an official retailer in 2013.
Beardbrand's founders are clever, interesting and most of all genuine. There's something to be said about people who believe in the products they sell and make customers feel like part of the family.
With nearly 47,000 YouTube subscribers, grooming products aren't the only quality thing pumping out of this company. Beardbrand produces videos that help customers use its products, grow better beards, and learn other cool and relevant things. The company is approachable, funny and passionate about the bearded community.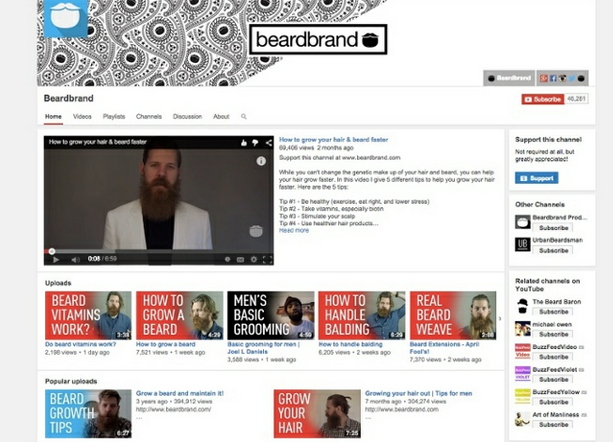 What you can learn from Beardbrand:
Remember why you started your business and rely on that passion to drive marketing content.
Find out what's relevant to your target audience and create content around that. This is a great way to draw customers in and keep them coming back.
Have fun with it! Let loose and don't be afraid to approach marketing like a friendly conversation.
Go Beyond Expectations: Reformation
Being environmentally friendly doesn't have to mean sacrificing good fashion. Based in Los Angeles, Reformation goes above and beyond for its eco-friendly customers, who demand sustainable foods, fashions and other consumable goods. Reformation lives and breathes green business, from its product packaging and LEED-approved facilities to the nontoxic, biodegradable cleaning products used by its janitorial staff. Even the ink pens used by Reformation's staff are made from recyclable materials.
Reformation's products are made with sustainable fabric and looks like they came straight from New York Fashion Week. The best part? They come without the fashion week price tag.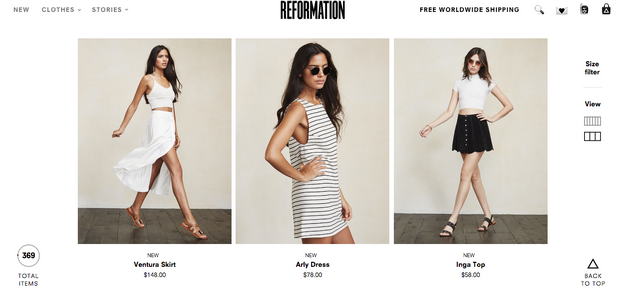 What you can learn from Reformation:
If you're going to sell sustainable fashion (or other products), live the mantra from top to bottom. Be a lifestyle, not just a brand.
Offer transparency about your store and the industry as a whole. Customers will in turn feel comfortable devoting their loyalty, and money, to you.
Price competitively but fairly. Consumers expect to pay a little more for fashion that's also sustainable, but that doesn't mean the price tag should reflect the runway. Test different pricing strategies.
Brandon Levey is the CEO of Stitch Labs, an online software provider for multichannel retailers to help them manage their inventory, orders and sales data in one location.
Related story: 5 Ways Online Shoppers Mentally Grade Websites