3 Examples of Effective Retail Marketing
What you can learn from BKR:
Don't be afraid to take risks and commit to an ideal customer. If your marketing is "everything to everyone," it will be nothing to no one.
Test color names and try something more creative.
Take customers on a journey. Provide different scenarios that include your product to help customers picture owning it.
Be thorough. BKR makes even its individual product descriptions clever and on brand.
Use Relevant Content to Draw Awareness: Beardbrand
Beardbrand, a creator of high-quality grooming products, began in 2012 as the lifestyle blog of beardsman Eric Bandholz. Tired of beards being left to kitschy, cheap products and feeling that low-quality items led people to consider beards a short-lived fad, Bandholz recognized a growing need for better grooming products and transitioned to an official retailer in 2013.
Beardbrand's founders are clever, interesting and most of all genuine. There's something to be said about people who believe in the products they sell and make customers feel like part of the family.
With nearly 47,000 YouTube subscribers, grooming products aren't the only quality thing pumping out of this company. Beardbrand produces videos that help customers use its products, grow better beards, and learn other cool and relevant things. The company is approachable, funny and passionate about the bearded community.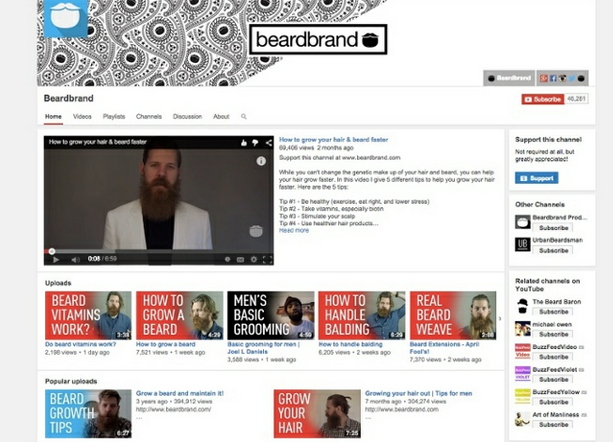 What you can learn from Beardbrand:
Remember why you started your business and rely on that passion to drive marketing content.
Find out what's relevant to your target audience and create content around that. This is a great way to draw customers in and keep them coming back.
Have fun with it! Let loose and don't be afraid to approach marketing like a friendly conversation.
Go Beyond Expectations: Reformation
Being environmentally friendly doesn't have to mean sacrificing good fashion. Based in Los Angeles, Reformation goes above and beyond for its eco-friendly customers, who demand sustainable foods, fashions and other consumable goods. Reformation lives and breathes green business, from its product packaging and LEED-approved facilities to the nontoxic, biodegradable cleaning products used by its janitorial staff. Even the ink pens used by Reformation's staff are made from recyclable materials.
Related story: 5 Ways Online Shoppers Mentally Grade Websites